John Madden Football 92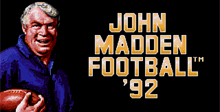 a game by Electronic Arts
Platform:

Genesis
See also: Football Games, John Madden Games, John Madden Games, Madden Games
Theme: Sports
Difficulty: Average
Number of Players: 1 or 2
Available: Spring '92
Pass the pigskin!
Football fans rejoice. John Madden is back again in John Madden Football '92. This version contains several new features not found in tne now-classic original.
From the instant replay feature that allows you to review your last play with special rewind, play and frame-by-frame controls to cinema displays of Coach Madden and roaring crowds, John Madden '92 takes all of the proven play concepts and award-winning interaction of the first game and broadens tne scope in every direction!
John Madden Football '92 brings hard hitting football action to new heights with its smooth scrolling and great game play! Fans of the first Madden game, as well as new video football enthusiasts, simply MUST NOT MISS this incredibly fun sports game!
Other games by
Electronic Arts
John Madden Football 92 Downloads

John Madden Football 92 download
John Madden Football '92 is here and if you loved the first one, better set a date cause you'll want to many the second one!
If It Ain't Broke, Don't Fix It
Rather than going back to the drawing board for JMF '92, the guys at EA kept much of the stuff that made JMF '91 so great -- passing windows, real NFL teams, weather factors, etc.
But there's always room for improvement, so JMF '92 sports plenty of new features. Numero uno is a dramatic beefing up of the weenie computer's artificial intelligence. In John Madden '92, the computer actually learns and reacts to your playcalling tendencies - you heard right -- a SMART computer opponent! Those Protips we gave you for JMF '91? Forget them!
But wait, there's more! JMF '92 has new formations on defense and offense (such as the Run and Shoot and the 4-6 Eagle defense), a great instant replay feature that you control, quarterback substitutions, coaching profiles, user-controlled weather, and turf, grass, and domed stadiums. Your ball carriers can also hurdle diving tacklers!
ProTips:
Mix plays! The computer recognizes offensive and defensive tendencies.
Against a computer team, position a speedy linebacker between two offensive linemen, a step or two forward (but not off-sides). At the snap, you can charge through the line -- right into the backfield. NOTE: This only works during the first half, then the computer adjusts.
Okay, Buffalo Bills fans, here are some playoff passwords: Quarter Finals -- DT2T002F, Semi-Finals -- DVTY8T9N, Super Bowl -- DWJ4NLPV.
If you use a team with a "money" back (Buffalo -- #34, Detroit -- #20, Chicago -- #35, Dallas -- #22, All-Madden Team -- #20) run the HВ Toss Left and other running plays that take advantage of his speed. Hit С for a burst of speed!
There are no "automatic" defenses against the computer, but here's a Buffalo defensive play with a high rate of success: Select Nickel Defense, Read, and Bump and Run. Control #78 (he's on the left end of the line). At the snap, blitz the quarterback with #78.
Postgame Highlights
So now the big question -- if I already own John Madden Football '91 or Joe Montana Football '91, should I invest in John Madden Football '92? If you're a sports fan, your answer is "YES!"
John Madden Football '92 features the most talented computer opponent ever -- 'nuff said! Add to this the additional plays, two-player cooperative play, and improved graphics, and JMF '92 gives you great bang for your buck.