John Madden Football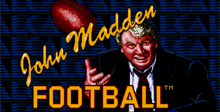 I'm in heaven! Pure Pigskin heaven! If you're a fanatic about football, grab yourself a copy of Electronic Arts' John Madden Football and join me at the pearly goalposts.
Forget everything you can recall about the football video games of the 80's -- John Madden Football makes them look prehistoric. John Madden Football combines fantastic graphics with exciting, challenging game-play. Add to this 16 NFL-based teams that possess all the strengths and weaknesses of their 1989 counterparts and you've got a great mix of simulation and hard-hitting action guaranteed to satisfy the most diehard Monday morning quarterback.
Quarterback Options
John Madden Football lets you choose a Playoff, Regular Season, or Sudden-Death Contest. The Playoffs come equipped with a password feature that enables you to save your place after the completion of each round. Regular Season is a single game against a team of your choice. Sudden-Death is also a one game deal, except you only play until someone scores.
JMF also lets you determine the length of each quarter; 5 minutes or 15 minutes. Five minutes per quarter games give you more than enough time to learn all the nuances of your team's offense and defense.
After you select your teams, you'll get a run down of their strengths and weaknesses.
San Francisco
Pluses: Big money QB, spectacular receiving corps, bruising double fullbacks, quality defensive front seven.
Minuses: Some holes in secondary, bad punting puts 'D' in a hole.
Philadelphia
Pluses: The most athletic quarterback in the league, a dominating front four on defense, aggressive cornerbacks.
Minuses: Weak running game, inconsistent kicking game.
Minnesota
Pluses: All-pros everywhere, big play receivers, awesome pass rush, great safety run play.
Minuses: QB is a poor passer, offensive line underachieves.
Los Angeles
Pluses: Passing Machine, smothering offensive line, money kicking.
Minuses: No deep pass defense, no pass rush, second class running game.
Denver
Pluses: Golden-armed QB, three quality receivers, powerful, slashing back; great pass coverage.
Minuses: Soft defense against the run, short-ranged kicking game.
Houston
Pluses: Smart, mobile quarterback who complements backs, veteran safeties, good kicking game.
Minuses: Weak line backing against the run, immobile offensive line, weak at the corners.
Buffalo
Pluses: Punishing running attack, real man offensive line.
Minuses: QB had off year, uneven secondary play, no push from pass rush.
Cincinnati
Pluses: Crafty QB, running game's 1-2 punch, great defensive backfield.
Minuses: Uneven defensive line talent, linebackers' skills slipping, poor special teams play.
Atlanta
Pluses: Updated, smart passing game, bad boy linebackers, quick corner-back play.
Minuses: Slo..o...o...ow running backs, no outside pass rush, pass coverage's soft underside.
Kansas City
Pluses: Best secondary in football, dominant fullback, great offensive line play.
Minuses: Receiver talent not there, linebackers lack speed, still looking for a QB.
Pittsburgh
Pluses: Good pair of receivers, offensive line opens holes, sharp secondary, great kicking game.
Minuses: Soft run defense, no pass rush hurts secondary, QB strong, but not a star.
New York
Pluses: Tough, clutch quarterback, smart veteran line backing. rock solid kicking game.
Minuses: Aging running game, secondary talent lacking.
Washington
Pluses: Wealth of aerial weapons, strong running game, overachieving defensive line, offensive line.
Minuses: aging defensive backfield, weak inside line backing, popgun kicking.
Chicago
Pluses: Multipurpose running game, good coverage at the corners, top-notch kicker.
Minuses: No real quarterback, thin at the wide outs, no leadership at safety.
Miami
Pluses: Cannon-armed quarterback, quick wide receivers, improving secondary, good kicking game.
Minuses: No pass protection, still no running game, soft left comer.
New England
Pluses: Good at the wide outs, strong left offensive line.
Minuses: Smart, but aging QB, no rush from defensive line, weak punting hurts defense.
Air Madden
John Madden Football has a lot of nice features that you won't find in other pigskin video games. Just as in any NFL contest, in JMF there are players constantly shuttling in from the sidelines. You can choose your set; the group of players who will run your play. A "Big" set is good for running plays -- you need those big guys in there opening up holes for your back. Choose the "Fast" set for passing situations -- quick receivers who can get you big gains. There are six sets in all -- a different group of players for any situation.
The passing game is truly unique. Passing Windows is a great feature that enables you to focus on your receivers and throw to the guy who is most open. When dropping back to pass, hit the С button to call up the Passing Windows. Three small boxes appear at the top of the screen, showing you a close-up of receivers A, B, and C. To throw the ball, simply hit the button corresponding to the receiver you want. Once the ball is thrown, a yellow circle appears on the field to let you know where the ball is headed. You must take control of the receiver and get him near that spot. Quarterbacks are rated for passing ability: the better their ability, the more likely they'll throw the ball accurately.
ProTip: Get a feel for the passing game by practicing with short tosses such as the screen pass.
Another special feature of JMF is the ability to audibilize at the line. Yep, that's right, if you don't like the other guy's set up, you can call an audible just like any smart quarterback would. There are three different audibles to choose on offense or defense.
Crunch Time!
A great defense will make the other team's offense do things it doesn't want to do. "D" is the key to success in John Madden Football. You take control of any player on the defensive squad. You may prefer to play on the line and try to nail the QB or take a spot in the backfield and try to pickoff an errant pass. By tapping the В button, you can switch to another defender closer to the guy with the ball.
The important control to remember when you're playing defense is the Crunch button, Button A. The Crunch button makes your defense intimidating by enabling you to jar the ball loose on a completed pass or force a fumble.
Here's a formation on defense the computer has a hard time beating. Choose a "Dime" formation, "Cover" set, and "CB Blitz." Now, tap the В button once to gain control of the left comer-back. Move the cornerback up to the line. When the ball is snapped, charge in and nail that quarterback! Most teams have fast cornerbacks, so you'll be in your opponents backfield before he can blink. This defense works best with Kansas City, Pittsburgh, San Francisco, Philadelphia, Buffalo, LA, and Atlanta.

The computer almost always nuns a "Halfback Counter" as its first play of the game.
Team skill levels run the gamut in JMF, so there's a good chance you'll find a team suited to your playing ability. The only knock on JMF is that once you've mastered the game, the computer is easy to beat. You can compensate for the computer's weak play by choosing a weaker team and giving the All-Madden team to the computer.
Have Your Cake and Eat It Too
John Madden Football has the right balance of strategy and action to keep gamers engrossed for months. You'll get a kick out of seeing how your favorite NFL teams perform under your command. Except for the one noted flaw and the fact that you can advance a fumble (unlike in the NFL), John Madden Football is the most ambitious football game to date. Helmets off to the folks at Electronic Arts for satisfying every football fan's dream.
Other games by
Electronic Arts
John Madden Football Downloads

John Madden Football download
Electronic Arts teams up with John Madden to make the world's best football game! Everything is here!
The perspective is a very effective pseudo 3-D from behind your team.
Features:
Play 1 or 2 player
Select either a regular season, Sudden Death, or Playoffs;
Choose your team from those of 16 cities or go against the Madden All-Stars.
Even the weather conditions vary as you can play in snow, rain or mud!
Watch the scouting reports on the strengths of the other team or jump right into the game.
The plays appear in 6 different sets, each with 5 different formations, each formation with 6 plays!
The same detail goes for defense! Guaranteed to be a real hot title this season
Manufacturer: Electronic Arts
Machine: Genesis
Keith Allman of Moorpark, California, has sent in not one but ten different codes for the Super Bowl. Thanks for all the codes, Keith:
Minnesota vs. Denver: 3456712
Philadelphia vs. Miami: 7676767
Chicago vs. New England: 5555555
Atlanta vs. Miami: 7777777
Los Angeles vs. Houston: 7654321
San Francisco vs. Miami: 7651567
Philadelphia vs. Houston: 1777777
San Francisco vs. New England: 1717171
Philadelphia vs. New England: 6712345
San Francisco vs. Pittsburgh: 5671234
John Madden Football is a triumph, striking the perfect balance between strategy and action. Few simulations of any sport are practically as much fun to watch as they are to play, but John Madden Football is just that - and a great deal more.
In fact, John Madden Football is one of those rare games that might tempt someone into buying a Sega Genesis just to be able to play the game.
You can choose from 17 pro teams: 16 from National Football League cities plus the All-Madden All-Stars. This diversity allows for different skill levels. For instance, if you're just starting out, try coaching the All-Madden squad or San Francisco to what should be an easy win. Once you get a feel for the game, you can begin directing lesser teams in the bid for an upset.
Because the 16 pro teams mirror their real-world counterparts (based on 1989 statistics), some familiarity with how those teams performed is helpful. For example, if you take control of the Chicago team, you should establish a strong running game and stick to a short-yardage passing attack. If you're coaching Miami, use your quarterback's strong arm and quick release on deep pass routes.
Beginners might want to use the computer override function, which lets the computer execute the plays you call. Passing, for example, is easily the game's most difficult skill. Just let the computer do the work, sit back, and observe how the play develops.
Graphically, John Madden Football has no equal. The game's palette of rich colors gives you turf you can almost smell and stadium crowds you'll wind up cheering with. Even snow, mud, and rain are possible.
The animation is impressive, too. In some football simulations, watching the action is like bumping down a back road in a truck, but in John Madden Football it's like gliding along a freeway in a Rolls Royce. All 22 players are on the field, and they all move simultaneously without flickering.
One warning, however: This videogame is as addictive as the real football games on TV that turn wives into widows each fall. Thanks to John Madden Football, additional members of the family are going to be lost.
So you want a Genesis game with real impact? Play John Madden Football. A game as big and tough as the man himself. Seventeen teams. Each one blitzing and scrambling its way to Super Sunday. Each one packed with pro caliber players who you make dive, spin, jump, block, and break tackles. Just like the big boys.
Besides real moves, you get real weather Rain. Mud. Ice. Snow. Wind. Adjust to the conditions. Or take a beating.
Play on the all-Madden team with guys who eat their lunch out of their helmet and don't know the meaning of pain. It's real mud and guts football.
It's fourth down and you could boom one deep. Or take your chances, fake the punt, and go for it. What a total kick.
You can call more than 100 real plays, too, for complete, easy on-screen play calling. Pages ripped right out of Madden's play-book. Even audibles.
So everything's true to the game itself. Bone-jarring sounds of the trenches. Animation that will flatten you. Intense pressure. And half-time highlights and stats.
All the players have real attributes. You get guys with better hands. Guys who are faster. Even special short yardage units. As the big man himself says, "Some guys aren't mudders. Some guys can't hold a block on grass. That's real football. That's in the game". Think you can find a harder hitting football game? Get real.
John Madden fans, stand up and cheer! The popular football video game has now reached every video system and has moved onto the Duo.
Football videos can play any of the 28 football teams or pick from the best football teams of all time. You can even play with the Madden Greats consisting of the best players to ever grace the game. When you're ready to hit the field, you can access a huge library of offensive and defensive plays. Each has the potential to score six points or stop a play cold.
The coolest new feature is the digitized, full-motion video of the referee making a call. An occasional ball measurement will pop up when the refs aren't sure whether the offense has traveled ten yards. Other great options are field types like grass or turf in an open or dome stadium. You can even choose the weather conditions. Imagine playing in snow in Miami!
People say:
7
I like John Madden Duo Football. It may not look as good as other football games, but it plays very well. The play selection screen is slightly confusing, but it's only a minor flaw. I especially like the digitized cinemas. They are definitely cool. The cheering of the crowd makes it the next best thing to being at the game. This is the best football game for the Duo. Simply put, it's a joy to play. The Duo needs more games like this.
8
Wow, I'm impressed! I didn't think Madden on any other format could rival John Madden on the Genesis. The game play is very smooth and the graphics are well done, although the players look more cartoony. The addition of the digitized sequences for the intro and the referee are fantastic. The sound effects are live, as is the cheering of the crowds. Grab the Turbo Tap and get a tournament going with your buddies!
7
For a Duo game, this is the best one topping TV Sports Football from a few years back. There are tons more plays, along with cool, digitized grunts, hits, and play calling which added to the game. This game actually plays as good as the other JMF games. The one problem I found with the game is the scrolling. It's too choppy and took away from the playability, but that's a minor thing. It's still one to get for any sports fan.
8
Finally a game for the Duo that plays as good as John Madden. Tons of play options with a sharp referee, and funny grunts and groans add to the appeal of this game. There are plenty of hits and tackles to keep football fans satisfied. The only drawback is the rather weak scrolling effect, but it's a small price to pay for the control and fun of this game. This outdoes all previous Duo football games and is worth it.
Possibly the greatest football game series ever will be even better on the 3DO. The Madden series has always realistically recreated the sport from the stats to the bone-crushing plays. This version is no exception.
From the opening intro, you'll see that this is no ordinary football game. The introduction makes you feel as if you are watching Monday Night Football. The graphics are great. The many scaling players and the scrolling field are totally smooth.
John Madden 3DO should win sports fans over to the 3DO. There simply isn't a better looking football game on a home system.
Manufacturer: Electronic Arts
Machine: 3DO
The eye-popping visuals are the highlights of this one. The control and execution of plays take practice to master, but the complete run-throughs of the teams (with excellent cinemas) make this a winner.
Number of Levels: 8
Theme: Sports
Difficulty: Average
Number of Players: 1 or 2
Available: December 1991
4th down and goal to go!
It's the thrill of Football all over again - this time on the Super NES! John Madden Football for the Nintendo 16-Bitter represents the first sports title for that platform by the Electronic Arts Sports Network. Judging by this first entry, EA should have an equally successful foray into the Super NES sports genre!
With hard hitting action and a wide variety of plays, Madden allows you to grab a friend and take on the baddest teams in the NFL. Or, if you want to play solo, the computer will offer up a formidable opposition. With digitized voices and an instant replay feature, this cart takes the Madden play mechanics and adds even more! From an instant replay feature that allows you to play, fast-foward, rewind, pause, and frame advance the game "footage", to a demo feature that lets you sit back a watch the action unfold! Choose from preseason, regular season or playoff options. Pick your playfield (Turf or grass), alter weather conditions (fair, mud, or snow), and take control of your favorite football teams!
All-new realism!
Expanding on the excellent leaps in execution and play mechanics that were originally introduced to the Sega Genesis, John Madden Football tor the Super NES takes these concepts even further with realistic graphics, sound effects and play! From the roar of the crowd to the wide array of visual presentations that the Super NES has to offer, this game takes football to a whole new level! Field kick offs, block punts and throw for the bomb in John Madden Football!
Theme: Sport
Players: 1-2
Difficulty: Average
The first of the EASN games from the minds of Electronic Arts! Use your different tactical plays in all of the Stadiums. You can have it out in the regular field, snow, or even the mud!
Electronic Arts is bringing the ultimate football game to the ultimate video game system. Smoother scaling along with better graphics and sounds enhance the already classic game play.
Well, it's finally here. And it may be the biggest breakthrough in the history of game. We're talking about EASN, the interactive video sports net-work that has them buzzing from the boards of Madison Square to the soggy turf at the "Stick". Check out the smiting report -- for yourself.
He's been called Mr. Intensity. The biggest man in the league. Fact is, no one knows football like John Madden. And no video game for the Super NES™ has the bone-jarring impact of John Madden Football. This game is so true coaches have used it for training.
Square off with 29 pro-caliber teams (including the All-Madden All-Stars). Player skills (including quarterbacks scrambling) are rated and ranked because they'll affect every play. Call more than 100 offensive and defensive plays from Maddens actual playbook or use audibles at the line. Choose real weather like rain, ice, snow and mud (as John says, real football players are murders). Play on surfaces from the turf in domed stadiums to real grass. On passing plays check out all-new IsoVision with three isolation cameras covering your primary receivers.
Watch them signal when they pass the first down marker or the end zone. And stand by for instant replays. You can watch in real time. View the action frame by frame. Even scan the field to spot blown assignments. You'll also find Madden s one-on-one match-ups provide valuable insights for critical play-calling situations.
Choose any team to play in the Regular Season, or select one team and enter the play-offs. Then go for the championship gold. And what will big John have to lay about your play? Stay tuned to EASN and find out.
Ifs all here. The pressure, the excitement and the challenge of professional golf. Welcome to the only game tо make the cut, PGA TOUR Golf.
Tee off against 60 top TOUR pros in real PGA TOUR categories like driving accuracy, par breakers and putting average. Take on four of the TOURs toughest courses (designed from actual PGA TOUR blueprints) and compete in three premier tournaments.
Play in THE PLAYERS CHAMPIONSHIP at TPC at Sawgrass, The Kemper Open at TPC at Avenel and The Honda Classic at TPC at Eagle Trace. Or take your best shot at the awesome PGA WEST Stadium Course. Ten PGA TOUR stars give you playing hints and comments. But, ultimately, it's up to you. To succeed you'll need to nail golf's toughest shots like chips, punch shots and fringe putts (the 3-D putting grid lets you read all the breaks). True to life, totally authentic TV-style coverage gives you multiple camera views and spectacular aerial fly-bys. Plus, all new for the Super NES, it's the exclusive EASN Ball Cam. Follow the flight of your shots from club face to ball mark.
It seems fitting that one of the best 16-bit football games is one of the first sports games available for the SNES. John Madden Football stays faithful to the Genesis version, with a few extras.
Familiar Football
John Madden Football fans can plug in the SNES version and instantly hit the pads. Game-play, graphics, play selections, and sound effects are the same as its predecessor. Customize the game for one player or head-to-head action, and choose from all 28 professional teams to play either a single game or a four-game playoff series.
Game-play uses a first person perspective that scans 40 yards downfield! The playbook contains 18 defensive plays and 24 offensive plays. Either offense or defense can call an audible, and on defense, you can also reposition individual players before the snap. Hike the ball and passing plays display three passing windows at the top of the screen, which show the exact position and coverage for three receivers.
PoTips:
Remember, the farther you throw, the less accurate you are. Use the yard markers in the passing windows to gauge your distance from the receiver.
Memorize each receiver's pass route. They often criss-cross and wind up in a different passing window.
New Slants
SNES John Madden has a few twists on its Genesis rival. Now you and a buddy can gang up on the computer! One player controls the QB, but both players are eligible as running backs and receivers. Defense is especially fun when you gang tackle!
Another hot new feature for video coaches is Instant Replay! You have unlimited reviews of the previous play before the next snap of the ball with slow-mo and rewind!
One-on-One
The SNES graphics are a little sharper and brighter than the Genesis version, however, the animation and scrolling are clunkier and there's noticeable slowdown especially when a ball carrier draws a crowd. The computer opponent is tougher and a little quicker, but it's still easily beatable.
Kick off sharply to either sideline. Select the defensive player closest to that side and bring him down field as fast as you can for a headcrushing tackle!
Good Football
John Madden Football is an excellent mix of arcade action and realistic gridiron strategizing. Great graphics, responsive controls, and well thought-out football game-play makes this a video treat you'll savor! Bon appetit!