John Madden NFL 94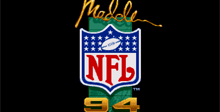 Machine: SNES, Genesis;
Manufacturer: Electronic Arts; Tiburon Entertainment
Teams, teams, and more teams - that pretty much sums up Madden Nfl '94, Electronic Arts' new Snes football simulation. Ok, teams and speed. That's right, it may have taken three tries, but there's finally a John Madden SNES game with speed.
No more jumpy animation - Madden Nfl '94 flows like its Genesis counterpart. And its other new features put it at the top of the heap of Snes gridiron sims. Take those teams, for example. First, you've got all 28 1993 NFL teams, plus every Super Bowl team since 1966 (38 in all). There are a dozen all-time great franchises as well as two "All Madden" teams. That's a whopping 80 in all.
Madden '94 also adds an Nfl license for the first time, so teams have correct names, uniforms, and emblems. New visuals have been added to the cheerleading squads and spectators, and the playing field becomes progressively more torn-up as the game goes on. Full-season play is new in this simulation, and there's limited Mode 7 rotation that can be controlled during instant replay to let you see a great play from any angle.
But if nothing can match the playability of the Madden simulations, this game has a much weaker artificial intelligence than its Genesis counterpart. You can shut down the computer offense almost every time. For instance, don't be surprised if Montana hands off to a running back in a pressure situation instead of going for the pass. Needless to say, that's not the real quarterback's normal strategy.
And unlike most other EA sports simulations, Madden '94 still uses a password system instead of a battery backup, so you still can't save statistics or edit your teams. But despite its shortcomings, Madden NFL '94 is still the best way to play SNES video pigskin. And with the new EA multi-player adapter, your Madden afternoons can turn into full-blown gridiron parties - just make the losers buy the pizza.
Other games by
A Highscore Production
John Madden NFL 94 Downloads

John Madden NFL 94 download
The old saying, "If it ain't broke don't fix it," might apply to Madden NFL '94. This version of Madden for the Genesis and the SNES is new and improved, but it's not what you'd expect from EA Sports.
The new Maddens offer some slick new features, such as a cool reverse angle on instant replays.
By far the best improvement is the multi-player option. Using EA Sports' 4 Way Play, four Genesis players can team up or split up for simultaneous game play. On the SNES, five players can compete with Hudson's Super Multitap 5 -- Player Adapter. The multi-player options add a great, rowdy dimension to the games, and learning to play together with friends can be tougher than beating the CPU. You will also find a few more offensive formations in Madden '94's playbook. Overall, though,' Madden '94's game play doesn't vary much from Madden '93.
On the downside, these games are missing a few realistic features, and realism is what made the Madden series the best in football game play. For example, there's no situational substitution, so players don't run on and off the fields between plays. In fact, on offense the Big, Hands, and Fast teams are gone. This factor streamlines the game play, but it takes away from the gridiron realism.
What's more, in the SNES game, defensive linemen can run down speedy running backs from behind, even when the back is galloping off on a breakaway. Another problem with the SNES version is that you can't change to another formation once you've selected an offensive or defensive formation, even if you call time-out.
The Fundamentals
In other ways, both Madden '94 games are similar to their predecessors. You still get all 28 NFL teams, with their strengths and weaknesses updated based on the '93 season. You also get 38 Super Bowl teams, 12 all-time franchise teams, and two "All-Madden" teams, making a total of 80 teams if you're scoring at home.
ProTip: To avoid diving tacklers in either system, press the Hurdle button just as the defender makes his move.
Madden '94 also features the same digitized oomphs, grunts, and bone-crushing sound effects is last year's versions. On especially hard-hitting plays, EA Sports has added extra pops to the sound track. You even get new Maddenisms. For example, after a quarterback sack, Madden now exclaims, "Can't hold the ball for that long!"
With either system, select a "nickel" or "dime" defense on sure passing downs. Then pick an outside linebacker or defensive end, line him up wider than normal, and put an all- out rush on the QB. (Genesis shown at top.)
SNES Looks Mah-velous!
The SNES version's graphics blow every other football game away, including Madden's Genesis version. The SNES edition is the sharpest and most detailed game in the series. Visual Concepts (the game's designers) utilized the system's 256-color capabilities to the max. The screen even rotates during punts and turnovers, which doesn't happen on the Genesis.
For big yardage on the SNES, run the ball up the middle with your fullback a few times, then run a sweep with the quicker halfback.
The SNES version doesn't match its smooth graphics with smooth game play, though. Sprite movement, even for the fastest players, is choppy at best on the SNES. Players start off fast, but after five or 10 yards they slow to a turtle's pace. Let's face it, if Emmitt Smith breaks the line of scrimmage, he shouldn't be caught from behind by Reggie White.
Sometimes you must move your SNES or Genesis QB out of the pocket to give your receivers enough time to run their pass patterns. (Genesis shown at top.)
On SNES passing plays, move your receiver to the "target spot" and keep him there. He'll catch the ball almost every time.
When the ball is in the air on the Genesis, have a defensive back bump the receiver before he gets to the "target spot." Don't be too obvious, or the zebras will call pass interference.
In the Genesis version, you can block the computer punter. Take your fastest player, line him up wide, and then rush him quickly. Finally, press A to leap and block the punt.
Genesis in Control
What the Genesis version lacks in graphics, it makes up for in other areas. The game play is quicker and smoother than the SNES Madden, and the controls are much more responsive. You'll find that player speed is more realistic (Reggie will never catch Emmitt on the fly in the Genesis). Statistical control freaks are really going to freak, however, when they discover that the Genesis Madden lacks individual halftime and end-of-game stats.
Tougher Competition
A major complaint about the earlier Madden games was how easy the computer was to beat. That's no longer the case. The computer selects its plays more quickly, plus it runs more aggressive defenses and higher-risk offenses.
The SNES computer is much tougher to score against because of the discrepancy in player speed, so take advantage of all of your scoring opportunities. The Genesis computer plays wide-open, offensive games. CPU running backs are almost impossible to bring down behind the line of scrimmage. Plus, no matter how well you cover the computer's receivers, they always seem to come up with the reception.
Don't be one-dimensional. Mix things up on offense and defense. Madden '94 will adjust if you don't vary your plays. (SNES shown at top.)
Genesis vs. SNES
It's too bad that EA Sports couldn't combine the best Genesis and SNES features into one game, because that would produce the ultimate football game. For owners of both systems, picking between the two is a matter of taste. If you like old-fashioned, smash-mouth defensive football and great graphics, then play the SNES. If you're offense-minded and love great control, then kick off with the Genesis version.
If you own one 16-bit system your decision is easy. Despite some quirks, Madden NFL '94 blows away the competition for any system. John Madden is still the video league MVP.
What's the biggest football day of the year? No, it's not New Year's Day. It's not even Super Bowl Sunday. It's Electronic Arts Sports' "Football Friday" on November 19, the release date of Madden NFL '94 for both the SNES and Genesis. For Madden fans (and who isn't?), it's a day for foot-ball frenzy.
The best-selling Madden games have been dramatically improved for both systems. The best improvement of all is a new multi-player option for owners of EA's new 4-Way Play adapter. Yelling and taunting should fill the room as four players take the Genesis field, and five players compete on the SNES with Hudson's Multitap. New strategies are required for teammates to coordinate plays, pass routes, and zone defenses. This is how video football was meant to be played!
Other major changes include an expanded number of teams. There are now 80, including the real teams (though not the real players) from '92, a dozen historical All-Star teams, 38 Super Bowl teams, and two of the signature All-Madden teams. You can create and play a full NFL season that takes you right through the playoffs and on to the Super Bowl, with a battery backup to save all stats. There are also more plays (72 on offense, plus play flipping), more of the hyper coach's commentary, and more options (such as ever-changing weather conditions).
The new Maddens will be feasts for the eyes as well as the thumbs. Faster, more responsive players, smoother game play, and full 360-degree rotation for instant replays from any angle ensure a long, exciting season of football ahead. Despite a flood of new sports games coming out, the Maddens have broken away from the pack and look like they could... go... all... the... way!