Journey to Silius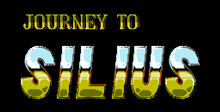 a game by Sunsoft
Platform:

NES
Your father is chief of the Silius space colony and when you get there you find that a huge explosion has destroyed the colony including your father. His research notes talk about intergalactic terrorists threatening the colony and it is up to you to avenge your fathers death. Eliminate the terrorists and their bosses who have taken over Silius to prevent this from happening again on another planet.
People say:
6
This game is not going to win any awards for being new or innovative, but Sunsoft does manage to introduce some new and genuinely playable twists to the standard action/shooting theme. Nothing incredible, but a nice game in the end.
6
While Silius doesn't have the big name on the game as Batman did, this soft should stand as a good game on it's own. All of the qualities of a decent shooter are here, challenging game play, decent variety of backgrounds, and a good difficulty curve, though set a bit too easy.
7
Although they stripped the Terminator title from this game, Silius is going to be one of those sleeper hits this year. Like Batman, while the graphics are small in scale this allows more variety in backgrounds and game play. 'Killer' bosses and a jammin' soundtrack are high points.
6
Lucy meets Star Wars! A good action adventure game with great music and standard enemy opposition! Typical "ROSS" enemies throughout as well as storyline intermissions. If you can't kill'em, mak'em laugh!
Journey to Silius Downloads

Journey to Silius download
Manufacturer: Sunsoft
Machine: NES
To get nine continues and a sound test, during the title screen, press the B button 33 times and then press START.