Junction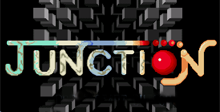 a game by Micronet, and Konami
Platforms:

GenesisGameGear
Levels: 100
Theme: Puzzle
Players: 1-2
Difficulty: Average
The latest 16-Bit puzzler has you shifting different plates to have a ball slide around the playing field. Be careful! If your not fast enough, the ball will slip off and be destroyed.
Junction Downloads

Junction download
The Genesis version of this mind-boggling puzzle title is making its way to the Game Gear! Guide a ball through a complex maze before the clock runs out.
Junction is a fascinating and addictive puzzle game from a new developer on the Genesis block, Micronet. The game consists of a single red ball and five boards (each with 10 stages) composed of multiple tiles. Each tile has a tiny groove etched into it, and all the grooves are shaped differently. The ball travels in the grooves. The object of the game is to maneuver the ball to certain checkpoints on the board by moving the tiles around so that their grooves fit together, forming a continuous line. If the ball hits a point where the tile grooves are mis-matched, or if it rolls into an empty space on the board, you lose the round. Get it together with Junction.
Junction is a puzzle game that is very unusual mix of two different old simple puzzles, Think picture slide game meets Mable arena, The aim of the game is to move the blocks to make a path around the course to set goal areas, Or though the graphics are not great this is supurb game which is very addictive and gets the grey matter sparking, The music is cool too.