Klash Ball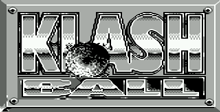 a game by Sofel
Platform:

NES
Type: Sport
Available: April 1991
Difficulty:Avg.
Far into the future, soccer, football, and robotics technology have meshed into one new sports breakthrough - Klash Ball! Command your players in an arena of destruction where only the best return to talk about it. Fast paced action consume every second as the power ball bounces from wall to wall and players explode after violent collisions! Select from multiple teams and game setting to triple the fun.
People say:
5
To tell the truth, this cart is an excellent effort to bring to the NES a game that would be more at home in a 16-bit system. The game concept is good, and a 16-bit version can't be far behind. Still, it lacks the control and visual stimulation necessary to become a powerful cart.
6
It's not football, hockey, rugby or soccer but it is new and interesting as it seems to be a combination of all of them. Somewhat difficult to keep track of what is going on at times but this is more due to the NES than the game. Not bad as I was getting tired of all the 'normal' sports.
3
This game wants to be Cyberball but it doesn't come off that way. It tries so hard to come off as a futuristic sporting event, but it seems to be lacking in new features. As it is, the game is just air hockey with robots. The fast action helps it along and keeps you moving but it needs more.
5
Klash ball is an exciting, fast-moving game that can sometimes be extremely difficult to control. It can be hard to tell where the ball is headed, and the computer is very proficient at blowing up your players and scoring. Still, it's a challenge to true sports fans everywhere.
Klash Ball Downloads

Klash Ball download
The future in your face.
SOFEL takes life simulation into the future with the release of our newest game, KlashBall, for the Nintendo Entertainment System. In a stadium hundreds of years from now, techno-gladiators do battle, combining contact with speed and finesse. Two five-man teams go for it, each fighting to deliver a three-kilo metallic energy sphere into the opponent's goal zone.
It isn't pretty.
Teams challenge each other in a surreal arena that utilizes devices such as a warp tunnel, ball launcher, and magnetically charged bounce domes.
The gnarliest teams in the world.
KlashBall features a complete league system. There are eleven rowdy teams, each with unique skills, strengths and weaknesses. After each match the central computer analyzes the outcome and records the stats. Play against the computer or klash it out with a friend.
It might be too real.
If you're ready, take a trip into the 23rd century with KlashBall. A game so real, it's in your face!
Get your feet wet.
Navigate through the ocean depths with the original aquatic homeboy, Fish Dude. The object is to eat as many little fish as possible so Fish Dude can grow to fight off his hungry enemies. Big fish, seagulls and a floating feline are all after him. Luckily Fish Dude has some cool pals like Octo dude to help him out of tricky situations. Come on, get you feet wet and explore the high seas with Fish Dude!
Klash Ball is a futuristic sport that takes speed and physical skill. Play takes place in a futuristic rink where you man a team of techno-gladiators who battle it out over a metallic sphere.
Toss a five pound steel ball into an arena, add some half-crazed hulksters who don't understand the meaning of words like "fair", "bribe", or "pain", and you've got yourself a rock 'em sock 'em game of Klash Ball. A blend of soccer, basketball, and hockey, this high contact sport (for one or two players) puts two, five-member teams on a metal playing surface where they attempt to score goals with a steel ball. You can coordinate your own passes, use the Ball Launcher, make jumping catches, or even legally bribe the refs to help your men put some double digits on the score board. But, the real trick is to execute those plays while trying to avoid bone-crushing, sliding tackles from your opponents!