Lunar Pool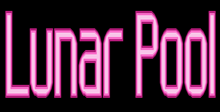 a game by Compile, and Pony Canyon, Inc.
Platform:

NES
See also: Pool Games, Lunar Games
Published by Pony Canyon, Inc. and developed by Compile, this billiards simulation video game was released in 1985.
The tables in the game are designed in a few different shapes and sizes, with pockets at times a little inwards from the cushion. This peculiarity makes the game comparable to miniature golf rather than to conventional pool. The player is able to set the power of each shot, however not the spin. You can choose one-player mode where you have to clear the table without missing more than 3 times. Lunar Pool offers 60 different tables, and 255 levels in total to play through in sequence, and the player may alter the friction level. Also, you can go head to head with the other player.
Lunar Pool Downloads

Lunar Pool download