Ken Griffey Jr. Presents: Major League Baseball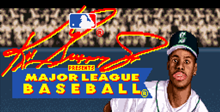 a game by LJN, Software Creations, and Angel Studios
Platforms:

SNES

Nintendo 64

NES
See also: Baseball Games, Major League Baseball Games
Ken "The Kid" Griffey Jr. has his own candy bar, he's an All-Star MVP, and now he has his own video game. Ken Griffey Jr. Presents: Major League Baseball for the SNES might not impress the true baseball fan. but it's good enough to make it one of the better baseball games for beginners.
Sacrifice Squeeze
Ken Griffey Presents tries to be a playoff contender, but it sacrifices too much. The game claims to be realistic, and you do indeed get Major League teams and stats, but all the players are fictitious, except for Ken Griffey Jr., of course.
The game lacks realism in other important ways, too: The ballparks are not very detailed or accurate, and you can't adjust your defense. As for realistic pitching, this game lets you control the ball after it leaves your hand -- just like in real-life pitching, right? Not! Some amateur pitchers may enjoy playing around with this control feature, but hard-core baseball fans won't.
ProTip: Get acclimated to the game by turning on the Auto Fielding option. It'll enable you to concentrate on pitching and hitting until you build up your skills.
In this game's defense, even though your favorite players are missing, the game has a built-in editor to change the players' names (though the stats remain the same). In addition, Ken Griffey comes with one of the best manuals for a baseball game, featuring lots of interesting info on baseball history.
Even though your favorite sluggers may not be in the game, you can add 'em with the name editor.
If the runner at first is threatening to steal, throw over to the base to keep him honest.
No Heat Here!
One of the most disappointing aspects of Ken Griffey Presents is its mediocre graphics.They're not the worst out there, but they're certainly nowhere near the best. The players crouch in very unnatural batting stances, and their bodies look strangely pumped up. Some of the sluggers have arms bigger than their legs! These stylized renderings of the players only detract from the game. Even the opening sequences lack realism.
The music and sounds, on the other hand, are much better. An upbeat rockin' tune plays throughout the game, and if it gets annoying, you can turn it off. The sound FX sport the clear digitized speech of the ump calling strikes and outs, and you hear the crisp crack of the bat hitting the ball.
To win it all, stand deep in the box, swing early, and drill it.
Swinging for the Fences
Wanna hot baseball game? Look elsewhere. If you're not into realism, Ken Griffey Presents would probably satisfy. The game offers easy play for beginners but not much else. It's a Triple-A game, not a Major Leaguer.
With a runner on first and no outs, bunt. The batter might get thrown out, hut you'll easily advance your runner into scoring position.
Similar Games
Viewing games 1 to 4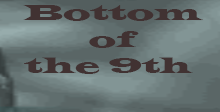 Bottom of the 9th
Konami brings its famous Bottom of the 9th to the Nintendo 64. Play as Juan Gonzalez and take on McGwire and Sosa and re-live the chase for the home run crown. Over 750 real MLBPA players. 1998 rosters plus off-season trades and free agent signings. Scenario mode lets you replay nail-biting moments in history - including the dramatic 1998 home run race. Six exciting play modes: practice, exhibition, all star, season, playoffs, plus new scenaio mode.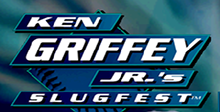 Ken Griffey, Jr.'s Slugfest
Bursting with stunning realism and high-excitement baseball action, Ken Griffey Jr.'s Slugfest drives home the winning run! Improved player animations and color commentary by Dave Niehaus - "The Voice of the Mariners" - make you feel like you're really at the game, while easy-to-use controls, updated rosters and statistics, and an optional fantasy draft make it even more fun than being there!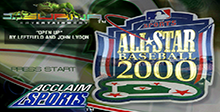 All-Star Baseball 2000
You can learn the basics of baseball in an afternoon, then spend a lifetime mastering its intricacies. All-Star Baseball 2000 isn't quite so daunting, but expect to log lots of time on the Pause screens while you figure it out. Created by Iguana, ASB 2000 has the glossy graphics and excellent sound engineering you'd expect from the team that brought you All-Star Baseball '99, NFL Quarterback Club 99 and Turok 2.
Mike Piazza's Strike Zone
DIG IN! Over 700 players! All the stadiums! All the teams and uniforms! All in 3D! Unique player editor allows you to create the ultimate athlete. All new 1998 rosters including two new expansion teams: Arizona Diamondbacks and Tampa Bay Devil Rays! Tons of hidden secrets including super-fast pitches, outrageous curve balls, incredible home runs and more! Fantasy Teams: Create your own rotisserie league. Ultra-realistic conditions affect gameplay: Grass and turf. Day and night. Rain or shine.
Ken Griffey Jr. Presents: Major League Baseball Downloads

Ken Griffey Jr. Presents: Major League Baseball download
Manufacturer: Nintendo of America
Machine: SNES
A game that captures the fun that made baseball the national institution it is. Responsive controls and entertaining game play are its solid foundation.
Take your Game Gear out to the ball game with Sega's latest sports title, The Majors Pro Baseball.
Select your players in this MLBPA endorsed game, using the authentic roster or hear all the umpire's calls with the unique voice digitization. Bunt, steal, or just hammer one out of the park in the animated cinemas. You can even choose from 3, 5, 7 or 9 innings and three different stadiums in this grand slammer!
People say:
7
Sports games are a hard sell to me and being on a portable doesn't make a cart's case any easier. But I found a lot to enjoy in this GG offer, especially some nice animations and easy play control. The computer puts up a decent battle, but the combination of strategic and head-to-head BB overtones left me happy.
7
Easily the best baseball game for the system. The key items such as pitching, batting and fielding are very easy to control and can be mastered in just a few games. There should be a way to make the game more difficult as the computer is really quite dumb. The addition of the real players is a feature that baseball fans will like.
6
This is an average baseball game for the GG. The graphics are pretty good and there are quite a few options. The game play is OK, but needs a little polishing. Running the bases is difficult because of the tiny players on the screen. The computer is too easy to strike out and the game get boring and repetitive easily.
6
Major Pro Baseball is a good baseball game for on the go, but it can sometimes get irritating with the tiny sounds. It plays fairly concrete, and gives you plenty of options to toy with. The graphics are well done in the behind-the-plate scenes, but break new wind in the overhead shots. It is a decent GG sports title, however.