Majors Pro Baseball The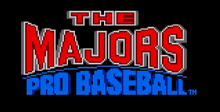 Tired of playing around on the minor leagues of hand-held baseball? Pretty soon, you'll be able to play with the Majors on your Game Gear. The Majors Pro Baseball by Sega is officially licensed by the Major League Baseball Players' Association (MLBPA). If you're a baseball fan, you'll be happy to find all of your favorite pro ball players packed into this cart, plus their statistics.
Can't Wait for Opening Day
This game will offer you a one-game Exhibition or full-blown Pennant Race. With a Gear-to-Gear cable, you'll be able to run bases against a friend. You'll also be able to play any of the 26 Major League Baseball teams, plus an All-American and an All-National team. If you feel creative, mix and match the players to create two of your own All-Star teams.
The game will feature a standard behind-the-batter perspective that switches to an overhead view for fielding. Cool extras include a digitized umpire's voice, inset screens for on-base runners, and batting line substitutions.
Batter Up
For those of you with an itchy pitching hand, don't fret! Your chance at winning the Pennant is on the way. Keep an eye on the Sports Pages for a full review of this game.