Mario and Yoshi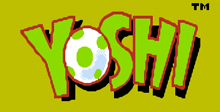 a game by Nintendo
Platform:

NES
See also: Super Mario Games, Monsters Games, Mario games
Yoshi, known as Yoshi's Egg in Japan and in Europe and Australia as Mario & Yoshi, is a game that was released for the Famicom/NES and the Game Boy. From March to July 2007, the Nintendo Entertainment System version was released for the Wii's Virtual Console over Japan, Australia, Europe, and North America.
You take control of Mario or Luigi and try not let the falling from the top of the screen blocks with monsters inside, pile up high and reach the top. Mario and Luigi prevent this by switching various columns of enemy characters backward and forward, so that they are placed under different falling objects. If there appears a chain of monsters within two yoshi eggshells, they will merge and a Yoshi will form, adding points and removing those monsters. The bigger the chain of monsters, the more powerful the Yoshi will be. In the game there is a password feature, so you are able to save your progress.
Mario and Yoshi Downloads

Mario and Yoshi download