Mazin Saga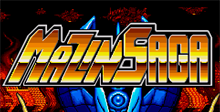 a game by Go Nagai, and Dynamic Planning
Platform:

Genesis
Mazin Saga makes a partly successful move from the comic book page to the Genesis screen. Intriguing graphics and gigantic bosses draw you into this cyborg- fighting game, but weak sounds and controls will push you back out.
Mazin Justice
You've probably played games like this before, most notably Cyborg Justice. Armed with a quick-slicing sword and a couple of moves, you plod sluggishly across futuristic lands devastated by a holocaust. The well-detailed, multi-scrolling settings include exotic Asian temples, dangerous deserts, and ruined cities.
ProTi[ps:
Watch the fence in the back for an early warning. You'll see the Level 1 boss's shoulder a split second before the quick-moving arm reaches towards you.
Concentrate on defeating enemies with guns or flamethrowers before you attack less-lethal bad guys.
Wherever you go, you fight against an army of metallic enemies. Some of them are intriguing (such as the morphing silver blobs of Level 2), but for the most part you seem to be fighting the same villains over and over again. After awhile, the enemies just aren't very challenging. The mechanical bosses are good, though, and so big that at one point you're fighting a huge foot that's trying to crush you. The immense dinosaur waiting in the desert could give Jurassic Park's T. rex a run for its money.
Propulsive music drives the action. What's missing are the explosive sound effects and bold roars from the bosses, which would have added some sonic boom.
Don't fight when you're standing near a precipice, or enemies might knock you into oblivion.
Sagging Saga
With big bosses to fight and interesting backgrounds to look at, this is a decent hack- n-slash game. Clearly, however, it's an unamazin' Saga.
Other games by
Dynamic Planning
Mazin Saga Downloads

Mazin Saga download
The Bosses in this game have to be seen to be believed - they are fantastic! As a side-scrolling hack-and-slash, Mazin Saga is a winner with very solid game play and killer music! One problem - the game is a little short.
All you Japanese fanatics out there all will know this title as Mazinger - Z!
Based on one of the many Japanimation series, this game is one title that is going to make the Genesis rock! The game starts off in a simple side-scrolling "Final Fight" perspective.
As the levels near the end, you'll fight a giant Boss who's trying to squash you like a bug. Then, go for the gold by growing to the size of the Boss and taking him on in a street fighting atmosphere! There is a vast array of moves to use, and the cool scene changes make this original and quite a blast to play!