Mendel Palace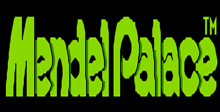 Platform:

NES
They're Alive!
Suddenly, you're transported to a new dimension! Where only you can save a beautiful girl from her own nightmare - from her own toys that have sprung to life!
Welcome to MENDEL PALACE, a fantasy as wild as your imagination!
Get ready for non-stop thrills and the hottest graphics around. With 20 areas and 200 levels! You've never played anything like it.
MENDEL PALACE ... a dreamworld that will blow your mind!
Look for it today at your favorite video store.
Mendel Palace Downloads

Mendel Palace download