Mike Ditka Power Football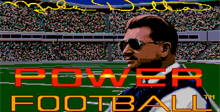 a game by Accolade
Platform:

Genesis
See also: Football Games
Mike Ditka Power Football is Accolade's entry in the Genesis football league. While the graphics and game-play aren't up to par with its competition, a wealth of setup options and an extensive roster substitution feature makes this game worth a closer look.
Any Way You Like It
This is clearly one of the most option-filled sports games there is. You have all 28 professional teams, and ol' Iron Mike himself gives you an in-depth scouting report for each team. At startup, you can choose to play a single game or enter a single elimination 16-team playoff; play 3-, 5-, 10-, or 15-minute quarters; set four levels of passing ability; and decide if players tire, suffer injuries, incur penalties, or fumble.
Plus Yardage
The game's most interesting feature is its detailed individual player stats. Each player is ranked in 5 categories, Fatigue, Speed, Hands, Strength, and Accuracy. Payers perform according to their stats, but play them extensively and they run slower, drop passes, and fumble the ball.
You can make substitute any player with another player from any position! For example you could stick a fast Wide Receiver in to run a fake punt. The possibilities are endless!
ProTip: Constantly monitor your players' fatigue levels. Offensive players only rest up when the opposing offense is on the field, and the same applies for the defense.
The passing game has an innovative feature which freezes the action after the snap. Then you can scroll through the playing field to check out the coverage.
Press В to pass and hold down the direction pad in the direction that you want your receiver to run. This way, both the ball and toe receiver should reach the same spot at the same time.
Minus Yardage
With all its tremendous options, you'd expect Power Football to play like a dream. Unfortunately, the graphics, animation, and game-play are all somewhat disappointing. Game-play uses a first person, vertically scrolling perspective similar to John Madden Football, but it lacks details and smooth animation. The graphics are bright and clear, but players are often hard to tell apart when they pile up. The animation is extremely choppy especially during big gainers. You often lose sight of your player as the scrolling hiccups across the screen.
Unfortunately there are less than a dozen plays on either offense or defense, and you can't call audibles. Also, the diagrams of the playbooks aren't clearly illustrated, making it difficult to see the exact route of each player.
During kicks, keep the power meter within the blue level. Going into the yellow level gives you maximum power, but less control.
Fourth and Long
It's obvious that a lot of work has been put into Mike Ditka Power Football to make it as realistic a football game as possible; however, more of that effort should have been channeled into the graphics and game-play departments.
Unfortunately, in the face of fierce competition from John Madden '92 and Joe Montana II, Mike Ditka will have a tough time making the playoffs.
Mike Ditka Power Football Downloads

Mike Ditka Power Football download
Theme: Sports
Difficulty: Moderate
Number of Players: 1-2
Available: December 1991
A real football experience!
Get ready to experience the bone crunching thrills of real football in Mike Ditka Football. This game has all kinds of features every football fan will enjoy. For the nice video football player, there options that allow you to adjust the difficulty of the passing game. You can also practice kicking with any team to master tne art of the long range field goal! Test your skill in a single face-off or plays an entire season in the playoff mode. Digitized voices call the plays and optional music throughout expand upon the game play even more. Other features include time-outs, substituting players and real division teams. Additional statistics screens allow you to track your progress just like the pros do! With Mike Ditka Football, you get it all!
Passing
The passing mechanism in Mike Ditka Power Football allows you to run plays from a series of specially scripted routines. With a full screen of opponents, you can perform hand-offs, short screen passes or even long bombs all the way downfield!
Calling plays
The variety of strategies designed in the Mike Ditka Power Football playbook allows for a wide array of playing possibilities. Huddle up and select from the option windows. Then move to the line and adjust your positioning to reflect pressure from the opposition!
Kicking play
Mike Ditka Power Football provides a number of different perspectives in the kick-off and field goal modes. The action plays well in both, although the field goals offer a more detailed look at the action!
Type: Sports
Release: 1991
Difficulty: Avg.
Mike Ditka Power Football is the latest in the Ballistic series of sports games. Mike Ditka employs some interesting features, like the perspective view down the field and an enlarged view of the players throughout the game. In Mike Ditka, you can choose from many different plays from the selection screen. After choosing your play, head onto the field for some rough and tumble football action, the Mike Ditka way.
People say:
5
Although this is a fine job of rendering the football field as well as developing the actual plays, the thing they forgot to do include the game play. The overall execution of this game tries to mirror the stunning qualities of Madden, but unfortunately comes up for a loss in every dept.
5
Mike Ditka ought to review the products that he puts his name on. His football game is not the best Genesis cart out there but it does have a good variety of plays to choose from. The action just doesn't get as intense as the others and it's at best only average.
4
I think that Ditka is a great guy and a good license for a football game, but this is a sad ripoff of John Madden. This graphics are choppy and the music is repetitive and annoying. There are a number of different plays to choose from, but with Madden 92 coming out, save your pennies.
4
This game sure tries to look like another Genesis football game, but the game play is no where near the same league. Ditka Football has some nice looks, but overall the game controls, plays and interacts with such a painful level of inadequacy, I couldn't even finish a game.