Monster Party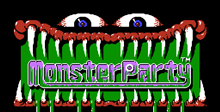 a game by Bandai
Platform:

NES
See also: Monsters Games
Published and developed by Bandai Co., Ltd., this video game was released in 1989. The game is a side scrolling adventure, very much like the Mario brothers in play, only full of monsters and skulls.
The player takes on the role of Mark, a young boy with a baseball bat. You are on the way home from a baseball game, when you come across a monster named Bert. Bert needs you to help and saving his planet from the cruel monsters. You have to learn how to blend with Bert and turn into a monster fighting gargoyle. Most of the game you will spend attacking bad guys swinging the bat at them or volleying their fire.
Monster Party Downloads

Monster Party download
Fighting a vast array of monsters is made more difficult than ever when rewards turn into demons and nightmares into reality! Help the metamorphosed Mark battle the demons!