Monster Truck Madness 64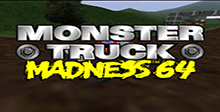 a game by Edge of Reality, Ltd.
Platform:

Nintendo 64
See also: Racing Games, Monster Truck Madness Games
Similar Games
Viewing games 1 to 4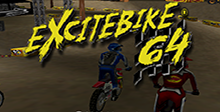 Excitebike 64
Experience extreme MX! You grind your way through the hairpin turn, a wall of mud exploding in your wake. Your next jump launches you into the air - you pull off a spectacular double no-footed can-can and become an instant legend! In Excitebike 64, you'll find all the high-flying action, heart-stopping stunts and bone-jarring crashes of the extreme sport of motocross. It'll set the daredevil inside you free. 20 stadium tracks and awesome outdoor courses - plus six different riders with six unique styles!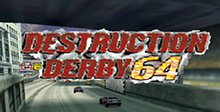 Destruction Derby 64
High speed chaos! Up to 12 opponents battle simultaneously on a dozen arenas and tracks. Hardcore demolition action! Exploding cars. Realistic damage. Hit the road! 24 vehicles, from stock cars to hot rods to ambulances. Multiplayer mayhem! Deathmatch, Destruction Race, Bomb Tag and Capture the Flag modes.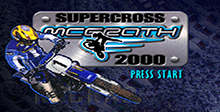 Jeremy McGrath Supercross 2000
The ONLY Supercross game with Jeremy "Showtime" McGrath! Totally customizable bikes and racing modes, plus free-ride practice environments and variable weather conditions. All-new engine featuring state-of-the-art graphics and bike physics. Design your own tracks with the custom 3D track editor. 16 Supercross stadiums and licensed Motocross tracks. 250cc and 125cc bikes plus Create-A-Rider. Sick freestyle motocross competitions exclusively featuring Travis Pastrana!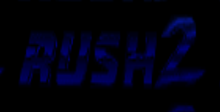 Rush 2: Extreme Racing USA
Performance... Adrenaline... Speed! These are the ingredients in the next generation of Rush Mania! Feel the Rush once again as you blast through some of the hottest spots in America! You want death-defying jumps and treacherous shortcuts? You'll find 'em, along with much more, in 8 new venues! Time to polish your speed demon driving skills! You'll be smokin' the radar guns in places like Las Vegas, New York City, Hawaii, Los Angeles and Seattle. And of course, there's that garden spot known as Alcatraz Island. Yeah, we're talkin' about The Rock.
Monster Truck Madness 64 Downloads

Monster Truck Madness 64 download