Mutant League Football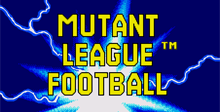 a game by Mutant Productions
Platform:

Genesis
See also: Football Games, Mutant League Games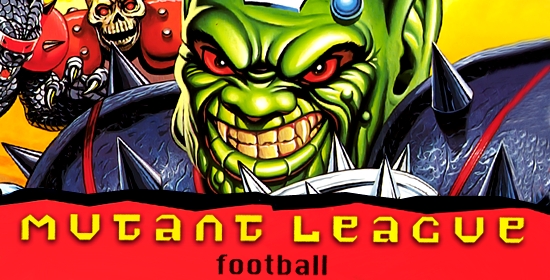 Every pigskin purist believes that somewhere there's a football heaven where quarterbacks are model citizens who throw perfect spirals, defenses play clean but never give an inch, and officials never miss a crucial call. Well, keep lookin', 'cuz IT SURE AIN'T HERE! Charles Haley? Mean Joe Greene? They're pussycats in this league. We're talking guys named Hairpuss, Blood Squirt, and Vomitz, and they all play for the Psycho Slashers. To top it off, they ain't even human!
Mutant League Football by Electronic Arts is the meanest, nastiest sports game to ever hit the video gridiron. Oh yeah, it's kinda fun, too.
Football, Mad and Rad
If you haven't guessed. Mutant League Football is footbrawl at its best. It's a great takeoff on EA's John Madden Football games. In fact, it uses the JMF engine, the interface, and the basic controls, which says a lot about the quality of the game play... but don't call it football!
ProTip: Land Mines and Fire Pits are positioned in such a way that they present a ready-made, deadly lane down the sidelines. To aid your runners, use the Replay feature to scan the field for helpful or hurtful geographical characteristics.
Whatever you decide to call it, here's what it is. The game is set in a weird, nutso, futuristic, sci-fi environment. There are 19 teams total -- two eight-team conferences (the Toxic and the Maniac), two All-Conference teams, and an All-League team. Each team is composed of Trolls, Robots, Space Aliens, Skeletons, and other degenerate descendants of the Human race. You can play on 19 bizarre, battle-scarred fields, such as the Cemetery, Winkystink Park, and Tripout Stadium.
Murder 'da Bums
Mutant League dishes out rough- and-tumble on-field action. The basic pro football rules apply. However, you only field seven men...er...things on offense and defense. You can attempt two-point conversions, and you can kill the ref.
On passing plays, you can buy time to find an open receiver by pressing Start to pause the game after you open the passing windows.
You play via a sharp, 3/4-overhead view of the line. You look from behind your offense and facing your defense. You control any player who's touching the ball. If you're steering a ballcarrier, make him leap over or jump-kick would-be tacklers, pull a spin kick, or dive for extra yardage. Quarterbacks also can use the effective three-window/three-receiver passing interface that Madden Football made famous.
A good yard-gobbling running technique is to continually press C to hop down the field.
On defense, quickly reposition your players before the offense snaps the ball Try to fill in gaps to gain a pass rush advantage.
Some teams have a mean defensive audible that reverses your controls at the line of scrimmage.
Your play book offers good variety. There are five offensive sets with six plays each, and a kicking set with four plays. You can call five defenses, including Goal Line and Special Team defenses that have great names like "BumpNStun" and "Blitzkrieg."
This game's for making friends...or enemies. The CPU puts up a good fight, but with a little practice it's beatable. Playing with a bud is where this game excels. The hilarious action really brings out the animal in you. You can beat up guys after a play, and knock opposing players into Fire Pits and Land Mines. Against formidable foes, remember that skull sessions to plan strategy really pay off!
Cheat the CPU on offense by running your play as soon as you switch from the play-calling screen to the on-field action. The defense will usually be out of position.
Rather than using the Field Goal Defense to defend point-after kicks, try using a standard defensive set that spreads out the offensive line, then position a player in the gap. Your team can bust through and block the opposing kick!
Treats for Eyeballs and Ear Holes
Mutant League's graphics are gruesome and mean! The sprites sport sharp detail, especially considering the unusual genetic background of the players. They move as fast as those in any normal football game.
The sounds won't damage your ears. Effects have bone- crunching pizazz. The manic jibber jabbering of the coaches is a hoot. The music rocks hard -- loudly and repetitiously.
All-League Extras
If you want statistics, Mutant League has a nice selection. The game keeps teams stats for 14 categories, three categories for passers, and three for each defensive player, including mutant numbers like Deaths and Weenie Hits.
Options include Play-offs within your conference and a Reserves feature that enables you to make substitutions from the bench. You also get Passcodes for play-off victories. The Halftime Show stars a laughingly ugly set of reptilian cheerleaders, whose synchronized on-field antics literally rock 'n' roll. At least you get to toss grenades at them. Now that's entertainment!
So Scary, It's Fun
EA's John Madden Football folks must be pullin' their hair out over this game, but the Mad' Man has gotta like the humor here. This is a great game for players who want a break from real video football. If you're a warped, twisted, demented football fan, the Mutant League wants you!
Similar Games
Viewing games 1 to 2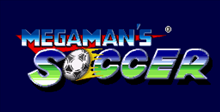 Mega Man's Soccer
It is a video game released by Capcom for the Super NES in 1994 that combines soccer with the original Mega Man series.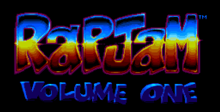 Rap Jam: Volume One
Rap Jam: Volume One is a Super Nintendo Entertainment System basketball video game in which the players are rap and hip-hop artists.
Mutant League Football Downloads

Mutant League Football download
"Bone crushing hits" take on new meaning as mutants from around the galaxy vie for glory in Mutant League Football for the Sega Genesis. Sixteen teams composed of humans, aliens, trolls, and skeletons battle it out on the gridiron. Watch the body parts fly as the rule book sails out the window. Plays include quarterback bombs that actually detonate, sweeps that put live TNT in the hands of the running back, and entire teams gathering on the field for some "referee bashing."
Obstacles litter the playing field, including rocks, potholes, and mines. With bodies literally exploding all over the field, part of the challenge is keeping your team alive. Instant replays catch all the carnage up close, and feel free to hurl dynamite at the halftime marching band.
Mutant League Football encompasses 19 different fields and four difficulty levels, as well as two-player support. And if things aren't going your way, you can always bribe the ref.
Theme: Sports
Available: May
Don't like to play by the rules? Mutant League Football by Electronic Arts is for you! If you think a call wasn't fair, kill the referee!
You have 19 teams to choose from and have 19 stadiums to play in. Even if you select the best team, there are flaming pits and land mines to run interference.
Play against the computer or challenge a "friend" for an all-out pigskin mutant brawl!
People say:
6
Although I appreciate the premise of this game (I like the way it expands the limits of normal football), the play mechanics are stolen from the Madden games and the program enhancements that build up the alien theme seem to bog it down. The graphics are good, but kinda messed-up. Not bad, but could have been better.
7
Cross a bunch of brainless mutants with the skills of football players and what do you get? A fun game with action like you've never seen before. Killer plays like bashing the referee and killing opponents are just part of the fun! The play book is huge and contains some really unique ones. More fun with two players.
6
This game could have been cool, if more emphasis was placed on the game play and less on the thrills. After you take out the ref a few times and witness a few gory plays, these effects wear thin. You are left with a choppy, average-playing sports game that resembles football. The game is more fun with two players.
7
What can I say? Mutant League Football has all the things you wish you could see in Madden Football, but know you'd never see. You've got to laugh when your whole team runs over and destroys the referee! Is it wrong? The coach is a sight to see, and though the play is a little choppy, the overall fun factor is excellent!
At last there's a video game on the horizon that looks like it's just perfect for that much maligned sports figure -- the Dirty Player! Mutant League Football by Electronic Arts looks like it escaped from the football funny farm. It's set in a far-out future in a far-flung galaxy. The players are monsters, aliens, robots, mutants, and other misfits of the imagination. The really hilarious thing about this game is that some of the video football strategy and plays are for real. They just have a violent, sci-fi twist.
Monster Football Action
Mutant League features 16 weird- ed-out teams, such as the Sixty Whiners, the Psycho Slashers, and the Maniac Misfits. You even get two All-Star, all-creature teams. You'll play in 19 different stadiums, including the Frozen Waste Dome, Blood War Stadium, and Penitentiary Park. As an added bonus, you'll be able to set five skill levels called the "Death Index," which range from Rough to Annihilation.
John Madden Football fans will croak when they recognize the football interface. On-field playing perspective, play selection screens, passing screens, and more have all been appropriately "stolen" from EA's premiere football game.
You'll only play with seven men... err, things at a time, but you can call some nifty plays. This game gives new meaning to the term "offensive formations" -- you get five containing several raunched-out plays each. There's Slayaction, SuckDraw, and, of course, Slash Right and Left. The Shotgun formation will also be popular. When all else fails, you can call "Kill the Ref". Of course, you might get hit with a five yard penalty for murder! The game keeps 10 stat categories, some serious ("First Downs" and "Attempts-Completions-Interceptions"), others speak for themselves, like "Deaths".
Pick Your Play, Not Your Nose
Mutant League Football's obvious take off on John Madden Football is probably driving the Electronic Arts Sports guys nuts. However, yah' gotta like a game that's going to go for quality, even though it doesn't take itself too seriously. The Mad Man would fit right in, and so might you.