NBA All-Star Challenge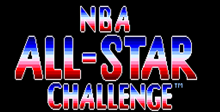 a game by Beam Software
Platform:

SNES
See also: Basketball Games, NBA Games
It was missing all summer, but now the unmistakable squeak of shoes scuffing the parquet is once again emanating from your television. It can only mean one thing: The NBA basketball season has started. To compliment your game library and your enjoyment of real NBA games, UN Ltd. is making a fast break into your SNES with NBA All-Star Challenge.
Hoops on the Half Shell
All the action in NBA All-Star Challenge takes place on a half court with a % overhead view from above the mid-court line and facing the basket. The cast of this one- or two-player game features one all-star player from each NBA team for a total of 27 players. The game offers five ways to play: a one-on-one game single matchup, a one-on-one tournament, a three-point shooting contest, free-throw shooting, and a game of Horse.
Since this game is licensed by the National Basketball Players' Association, each player performs in four categories according to . real statistics taken from the 1991-'92 season. The statistics determine each player's performance (Larry Bird or Chris Mullin can take the long- range jumpers with ease), but they don't affect the game play enough to create unfair matchups.
A Shiny Key
The game play perspective is simple -- scroll right or left to include the entire width of the court. However, the slick graphics are definitely out of the ordinary. The players are highly-detailed, smoothly-animated sprites. Even the reflections on the shiny wood floor are impressive. The game's developer, Beam Software, does gets a violation, though, for not accurately representing the NBA players. For example, Isiah Thomas is the same height and has the same hairstyle as J.R. Reid.
ProTip: Stay between your man and the basket When you stop the computer's drive to the basket, he won't move again. You can either wait for the shot clock to expire, or you can steal the ball by getting in front of the player and pressing Y. Either way, you get the ball back.
Mono a Mono
The best options in NBA All-Star Challenge are the one-on-one tournament and the regular one- on-one game. In the one-on-one game, you can take on the computer at three skill levels or go head-to-head with a friend. This provides the excitement of true competition without a lot of confusing controls. You can only play the one- on-one tournament in one-player mode. You select four players for you to control and four for the computer to use. There are seven games in an eight man, single elimination tournament.
The Playground Meets the Pros
The three-point shooting contest is the same as the one you've seen at the NBA All-Star game. Each player gets 25 shots from five different locations. The one who makes the most shots is the champion. This game is all timing.
On defense, force the computer to drive to the basket along the baseline (bottom of the screen). Once he goes airborne for his shot, press A to jump with the player. He won't be able to shoot, and you'll get the ball on a traveling call.
Shooting is an art form. Don't wait until your player has reached the top of his leap to shoot the ball. This will result in an AIR BALL!! Shoot just before he reaches his zenith.
Horse is played like the old schoolyard classic. Take the ball and put it in the hoop, then see if your opponent can replicate your shot. Every time the lead player makes a shot, an X will appear to indicate the exact spot where the shot was taken.
Don't horse around. If you find a shot that the computer can't make, keep shooting it until the computer proves it can make it. This works especially w ell when you have a matchup with a shooter like Larry Bird against a center like Patrick Ewing.
The Gang's Almost All Here
Not all of your favorite stars made the cuts for this game. For example, you won't find Dream Team members Scottie Pippen and John Stockton. Hey, don't let that stop you, because NBA All-Star Challenge is an enjoyable showcase of great graphics and fun, easy-to-play basketball. Check this game out or you'll be wishin' you were swishin'.
Other games by
Beam Software
NBA All-Star Challenge Downloads

NBA All-Star Challenge download
Manufacturer: Gameboy
Machine: Nintendo
Take the NBA All-Star Challenge on Game Boy
Hooked on Pro Basketball? You best shot is AII-Star Challenge for GameBoy with 27 (not a misprint) of the NBA's greatest stars (one from every team) in five action-packed events.
This is Gameboy action for real basketball fans...the players look real...their moves look real, the sounds are real. So, what are you waiting for? The 24-second clock is running and the action's FAN-TASTIC!
Manufacturer: Nintendo
Machine: Game Boy
Take the NBA All-Star Challenge on Game Boy
Hooked on Pro Basketball? Your best shot is LJN's NBA AII-Star Challenge for Game Boy with 27 (not a misprint) of the NBA's greatest stars (one from every team) in five action-packed events.
This is GameBoy action for real basketball fans...the players look real...their moves look real, the sounds are real. So, what are you waiting for? The 24-second clock is running and the action's FAN-TASTIC!
NBA All-Star Challenge packs a powerful one-two punch: It's a realistic basketball game played by some of the National Basketball Association's greatest names. Roundball fans won't be disappointed with this latest Game Boy offering from LJN.
NBA All-Star lets you choose from four different variations: a one-on-one match between two NBA players; an accuracy shootout; a friendly game of H-O-R-S-E; or a free-throw contest.
Not surprisingly, the one-on-one game is NBA All-Star's most entertaining challenge. You can select two actual NBA players from the 27-man roster and then try to guide one of them to victory. Your opponent can be controlled by either a friend or the computer.
Although familiarity with NBA players isn't necessary, it definitely helps. For instance, if your friend chooses Danny Ainge, it would be a good idea to pick another three-point threat, like Larry Bird or Kelly Tripucka.
It also helps to know each player's strengths and weaknesses before you hit the court. If you choose Patrick Ewing, for example, your best strategy is to get inside the paint and take the easy layups.
Unfortunately, two of basketball's best are absent from the NBA All-Star roster: Magic Johnson, last year's most valuable player, and David Robinson, last season's rookie of the year.
Despite the Game Boy's limitations, NBA All-Star does a fine job of conveying the excitement of a good game of basketball. The characters are easily distinguishable on the small LCD screen. Unfortunately, they dwarf the tiny basketball court. This means you don't have a lot of floor space on which to move around.
Nevertheless, NBA All-Star is well-suited to the Game Boy. Since people often use their Game Boys on the go, quest games aren't always the best kinds of games to take along. Sports games, on the other hand, tend to be more flexible. NBA All-Star allows you to set time limits for your one-on-one games (2, 5, 8, or 12 minutes) or play until someone scores a predetermined number of points.
Thanks to NBA All-Star Challenge, now you can hold your own with the NBA's best players - the Game Boy shrinks them all down to size.
Rock the rim with 27 of the hottest NBA All-Stars. Downtown or in the paint, driving offense and intense "D," take it to the hoop with the likes of Patrick Ewing, Clyde Drexler and Chris Mullin. If you're looking to play with the Pros, then NBA All-Star Challenge is the game for you!
NBA All-Star Challenge offers one-on-one basketball featuring NBA players from the 1991-1992 season. You can choose from 27 players, including Karl Malone, Patrick Ewing, David Robinson, Larry Bird , and of course Michael Jordan. There available five different playing modes: a single one-on-one match, a 3 point shootout, a free throw competition, one-on-one tournament, and a H.O.R.S.E. competition. Each mode can also be played by two players.