NBA Hangtime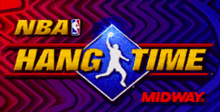 a game by Williams, and Funcom
Platforms:

SNES

Nintendo 64
See also: Basketball Games, NBA Games
Reminiscent of the classic NBA Jam, NBA Hangtime]dishes out fun two-on-two half-court hoops. Despite the slow pace and stilted sprites, the killer moves, courts, and players will keep you dunkin' like a cop at a donut shop.
Makes the Playoffs
Billed as two games in one, this disc actually serves up the same gameplay in two scenarios. In the NBA Hangtime mode, you choose from all 27 NBA teams (with three real players each) and hit the court for standard hoops in a standard arena.
In the intriguing World Tour mode, you pick a team from 12 countries like Canada and Tahiti, playing on a different court for each. World Tour teams consist of fantasy players like Smedley from England, and some squads even have female players!
Each scenario offers ordinary two-on-two gameplay (though adapted to the half-court game) and the expected Exhibition, Season, and Playoff modes. The court heats up with an exciting array of special moves (such as spins and super passes) and dunks that you control with multibutton taps.
Experienced Jammers will relish the opportunity to choose exactly how they dunk in their opponent's face. The functional, easily learned controls support the long move list, but memorizing the button presses requires some studying.
Bounces off the Rim
Graphically, this game couldn't have a prettier wrapping. Nifty live video of ESPN's Dan Patrick (Hangtime) and ESPN2's Stuart Scott (World Tour) provides humorous commentary, even though the usual Sega CD color bleed and interminable load time choke things up.
Once you hit the court, however, the graphics become less impressive in a hurry. The realistic backgrounds, especially in the World Tour, spice up the action, but the tiny sprites lack detail, and the animation is so choppy that you'll think a strobe light is flickering during the dunks.
Even worse, the players move with a staggering slowness that diminishes the intensity. Fortunately, the hefty hip hop tunes and feisty announcer keep the action rolling, overcoming the flat grunts and ball sounds.
If rough edges don't saw away at your fun, Hangtime's controllable dunks and half-court gameplay provide a fresh change of pace. The adjustable difficulty and wide range of teams should keep the challenge constant -- just don't expect the sharp sprites and run-n-gun fun of NBA Jam.
ProTips:
To shoot accurately, tap Button A a second time at the peak of your jump.
Defense revolves around stealing, so stay tight on your opponents and reach in as much as possible.
Periodically bench your players to keep them fresh throughout the match.
Stick with man-to-man coverage; your players are generally too slow to chase someone down.
If you grab the rebound, pass to your teammate to clear the ball, then immediately fire it back for a quick dunk.
Never charge straight into an opponent -- the ball will always be stolen. Use the Spin move to roll around them.
To bag an easy three, lure the opposing team under the net and pass to your teammate.
Similar Games
Viewing games 1 to 4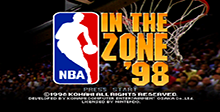 NBA In The Zone '98
For the first time ever NBA In The Zone '98 jams it home on the N64! Feel every rim rockin' dunk as you take your team through a full regular season and into the NBA finals! All 29 NBA teams plus two NBA All-Star teams. Over 300 NBA players including Shaq and Sir Charles, as well as Penny, Pippen, Ewing, Malone and Glen Rice. Play Exhibition, the NBA Playoffs and the 1997-98 NBA Season Schedule. Full season stat tracking for every player. 300 different motion captured moves.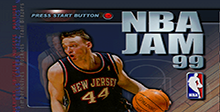 NBA Jam '99
NBA JAM 99 has it all! Award-winning hi-rez graphics and 3D sports engine. Over 300 players with real-life faces and smooth skin textures. Authentic 5-on-5 team play styles like the Bulls triangle offense. Bonus 5-on-5 Jam mode with outrageous dunks. Create your own players and teams. Authentic team rosters, uniforms and schedules. Trade, sign, draft and release players. Bill Walton and Kevin Harlan bring you the courtside action. Motion capture by Keith Van Horn of the New Jersey Nets.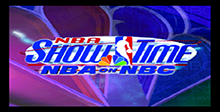 NBA Showtime: NBA on NBC
The NBA like you've never seen it before! NBA Showtime: NBA on NBC brings you the top players from each team in a heart-pounding, pulse-racing above-the-rim match-up! You'll see the intensity on their faces and hear it in their voices, you'll feel the power of every pass and every shot! This is what the NBA is all about! Go for rebounds and 3-pointers in all 28 arenas around the league. Choose from over 130 real NBA players plus hidden characters!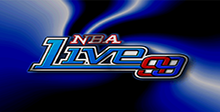 NBA Live 99
The Soul of Hoops comes to LIFE on the N64! Featuring classic NBA live gameplay, new high-flying Arcade mode, authentic high-res NBA arenas, All-Star action and 3-point shootouts! Real-life player reactions with Pro-Action AI. Real NBA motion captured moves. Create, trade, sign and release players. All the teams, all the players!
NBA Hangtime Downloads

NBA Hangtime download
Rubbish arcade basketball game conversion with silly power moves and players with wobbly heads. Well worth a miss.
The problem here is that two-on-two basketball gets very boring, very quickly. Even with a cheats list, your attention will soon wander.
Wobbly-skulled giants trudge around the court in this silly basketball game where a 'create player' option lets you play as a pig, which seems somehow fitting. It's all stupid super-moves, 50 foot leaps and exploding baskets, rather than anything resembling a real sport. Those who enjoyed Batman And Robin might consider it 'awesome', which says it all!
If you haven't Jammed in a while, NBA Hangtime hits the court with fresh features that'll addict you all over again.
The benches are loaded with a large selection of top NBA players (excluding a few superstars like Shaq), so you can choose your squad from five-man rosters. Beyond the usual turbo, dunk, pass, shove, and steal moves, you'll also find rowdy moves like double dunks, alley-oops, spins, and fadeaways.
The excellent create-a-player option lets you put your name in lights, while the responsive, undemanding controls stand by your side throughout.
As far as graphics go, colorful, realistic sprites and courts deliver snazzy hoops action. The sounds, however, fall flat on their face with a lousy announcer and flat on-court effects.
Hangtime's gameplay doesn't deviate from the clichéd Jam formula, so if you're looking for real-life hoops, NBA Live '97 holds top honors. However, Hangtime's formula is unquestionably a blast, supplying enough cool features to deserve some game time.
ProTips:
Listen for the announcer to call "Raises up..." so you know when to pass to your teammate for an alley-oop or double dunk.
If you have an open man along the side, dish out of the dunk and go for the three-pointer.