NBA Live 97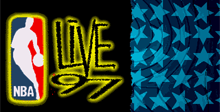 Don't slam-dunk that SNES just yet, sports fans. You'll want to save it for the nonstop hoops action of NBA Live '97. As usual, EA delivers detailed graphics, sharp animation, authentic NBA teams and players, and a basketful of customizable options, making this the best SNES b-ball action ever.
If It's in the Game...
In Live '97, EA Sports has created an impressively comprehensive simulation with enough options and features to deliver a satisfying gaming experience for basketball diehards and novices alike. You control every aspect of the game, setting rules, custom-creating your own players and teams, and calling plays on the fly.
All 29 NBA teams and over 300 actual players and their stats are included. New features include entertaining two-on-two and three-on-three practice modes, shootout competitions, and improved TV-style presentation of current game stats and player info.
Hit the Paint
The graphics are razor-sharp with plenty of individual player animation, and all players are featured prominently onscreen. Authentic touches such as home team logos at center court, animated sideline billboards, and Dennis Rodman's bleached-blond hair add to the realism (the shattering backboards aren't realistic, but they're cool anyway). You'll appreciate the animated play diagrams demonstrating each player's moves.
The controls are tight, with zero delay between your thumb and the screen. Sound effects are clear and consistent with what you would expect at a game.
What more do you need to know? Let's hit the paint!
ProTips:
Don't always rush the basket. Sometimes it's better to wait behind the three-point line to allow offensive formations to develop.
Don't attempt a turbo dunk unless you have a clear path to the hoop.
Remember to keep the weight proportional to the height of your customized creations, or they won't be very effective.
Other games by
Electronic Arts
NBA Live 97 Downloads

NBA Live 97 download
The best just keeps getting better. NBA Live '97 improves on this already classic series with new play options and cleaner graphics while maintaining the most insane, intense b-ball action this side of Madison Square Garden. From baseline to baseline, Live '97 is the best 16-bit basketball game yet.
Van Excellent Ingenuity
Live '97's All-Pro list of features scores big with Season, Playoff, and Exhibition games; every NBA team; a create-a-player feature; trades; custom teams; and some new rookies, including teen-age sensation Kobe Bryant. Play-calling is on-the-fly, and you have 8 offensive sets—including the Box and Isolation— and 16 offensive quick plays, like the Pick & Roll and Backdoor. You also have 6 defensive play options, along with the ability to switch player match-ups, double-team, or intentionally foul.
It's the fantastic new options, though, that will have you floating in NBA heaven. You can now select players from your favorite teams to battle it out in two-on-two or three-on-three half-court games. Or pick your favorite superstar to compete in the three-point competition or in an old-fashioned shootout, where two players are both given a ball to see who can score more points in the allotted time.
Starks Raving Mad
Graphically, an abundance of player details includes open shooters waving their hands in the air to call for a pass and smoother, more authentic jump shots than last year. Another new addition is a tiny box in the bottom comer of the screen that lets you see the score during gameplay—not just after every basket.
The crowd's roars and the sound of leather smacking the hardwood will make you feel like you're sitting courtside. There's plenty of PA music (maybe too much), and the announcer yells "Three!" when you sink one from beyond the arc.
Love Shaq
NBA Live '97 is the quintessential basketball title on the Genesis and is worth every penny for both the seasoned veteran and the hoops rookie. You'll be called for a flagrant foul if you let it pass you by.
ProTips:
During the shootout, you'll score more points with shots closer to the basket.
If you pass the ball inside to a threat like Kemp, you can pass back outside for a better look at a three.
Live's reign on the 16-bit courts has never been questioned, and this unfinished version of NBA Live '97 only strengthens that domination. Along with "of course" additions like updated rosters and a constant onscreen scoreboard, hoopsters will find faster, smoother graphics and fresh new animations for dunks, spins, and so on. If that doesn't get your ball dribbling, check this out: EA Sports expanded the roster of modes to include two-on-two and three-on-three half-court action, the three-point competition, and the shootout competition. These killer new modes inject Live '97 with a sweet arcade feel and impressive depth, but Live's trademark outstanding gameplay and features remain unchanged. Keep your eye on this ball -- it's warming up to be the monster dunk of the fall.