NBA Live 99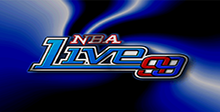 a game by NuFX, Inc.
Platform:

Nintendo 64
See also: Basketball Games, NBA Games
Bugs Bunny once played basketball, it's just a shame he's not in this!
How many basketball games can there be? Loads of different companies keep on churning them out like sausages, but no matter how many times a slam-dunking release creeps on to the shelves, one common theme binds them all together. They're all exactly the same. Choose a team, change it around, play some games and win a trophy. For a revolutionary game to arrive in the basketball market would be like Elvis crash-landing his flying saucer on top of the Loch Ness Monster. We shall continue.
Slam Dunk Junk?
So then, we've established what a game must do to succeed in the saturated sports market. It must perform superbly; offer compelling gameplay and look the dog's danglies. Unfortunately; you get the impression EA isn't really that concerned about quality just so long as the money kept coming in. Aesthetically, NBA Live '99 is shrouded in that fuzzy haze that we've become used to and all the rainbow hues of the NBA teams just come in a dull soupish colour. Individual players are animated well and are a pleasure to control, but when gathered together under a net the collection of jumping bodies and waving limbs make it hard to distinguish who's who. To help out in that particular sticky situation your team mates are thankfully very intelligent They call to you to announce their positions, they block the opposition and more often than not they help to slam a basket home with their amazing passing ability. One staggering new aspect that can't be ignored is the Al -it's here in bountiful supply and it works!
Slam Dunk Hunk?
NBA Live '99 certainly does seem to take itself seriously as a real basketball sim, and not only does it offer a good on-court ball-bouncing experience, but EA has also crammed in every stat and aspect of managing a team you could imagine. We're surprised you don't have to tie their laces before your team comes on to play!
There are two sides to this coin though, because the menus are so user-unfriendly you end up praying for a quickstart button to save you the task of ripping the hair from your head. Not to worry, if you are a serious basketball fan then finding your way about the menus would probably be a pleasure. If you are a serious fan though, it's likely you will already have an NBA game that satisfies your craving.
The likelihood of anyone rushing to the shops to buy this is slim, because it is virtually the same as everything that has gone before it - the only real difference is the liberal sprinkling of Al dusted on top. If you are yet to get bitten by the basketball bug (and who isn't?) then this should be considered. Remember though, look at all the basketball games on the market before choosing this one. There are so many out at the moment an almost identical title could be picked up at a fraction of the price.
2nd rating opinion
Another baggy-ball game arrives 'from down town' and as far as I'm concerned, it should have stayed there. Not a patch on Nintendo's NBA Courtside, but it has its moments. The effective 'icon passing' system provides a reasonable afternoon's entertainment.
Similar Games
Viewing games 1 to 4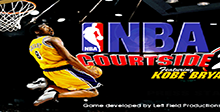 NBA Courtside 2: Featuring Kobe Bryant
Step onto the hardwood in the shoes of one of the most exciting and creative players in the NBA today. NBA Courtside 2 delivers unparalleled graphics, incredibly fluid player animations, an extremely wide range of one-player controls and all-new two-player controls. Create a rookie, and depending on how well you play, their skill ratings will increase or decrease. Quick Play, Season Play, Arcade Play, 3-Point Contest, Tournament Mode and four different Season modes.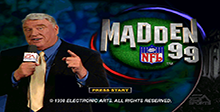 Madden NFL 99
This is all-Madden football! Legendary gameplay. One-button simplicity. The ultimate NFL experience. New super hi-res polygon graphics. Monster hits - feel and hear the impact! 250 new motion captured NFL moves. New Arcade Mode - huge hits, more fun! Over 120 past and present NFL teams. Draft, trade, create, sign, and release players.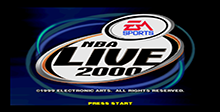 NBA Live 2000
Rim-Rockin', Take-Your-Soul-to-the-Hole Basketball! Jordan is back: Play Michael 1-on-1 and earn the right to play as Jordan and unlock him into the game! Prove it 1-on-1: Play as or against any current NBA player in the ultimate outdoor court challenge. All-new arcade mode: Over-the-top action, more monster dunks and all-new special effects! Quicker, cleaner moves: Work the crossover to perfection, take off for high-flying jams, or stop-and-pop a three-ball from downtown. Enhanced TV-style presentation: All-new camera angles and enhanced play-by-play for the ultimate live experience!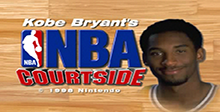 Kobe Bryant's NBA Courtside
Raise the roof with the NBA's newest superstar in Kobe Bryant in NBA Courtside! Run your offense, set picks and slam home alley-oops. Rattle your rivals by double-teaming playmakers, intercepting passes and blocking shots. Supersweet animations include high-flying dunks, crossover dribbles and no-look passes. Take on up to three friends and school 'em with your smooth hardwood style!
NBA Live 99 Downloads

NBA Live 99 download