NFL 95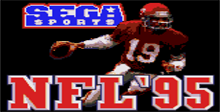 The Game Gear is still showing some light as games from Sega like this one prove that this portable system will be around for a long time.
NFL '95 has taken its name from the Genesis version It may not have the exact 16-Bit quality, but it does produce some pretty neat features that boost the aspect of the game. The playbook is comprised of a variety of plays from the offensive and defensive point of views. The plays are laid out pretty well, showing you your players' assignments and routes.
On the field, eight players are on each side. Even though the teams are reduced in size, they are comprised of real, NFL athletes. People who are not used to playing with small characters may have to get used to the controls while maneuvering your player and running and passing downfield.
NFL '95 is full of referee animations giving signals of first downs, delay of game, etc.
After practicing and taking down the computer for some games, why not enter the season and see if you can reach the playoffs? During the season you may check your standings and see the rankings throughout the league.
Overall, NFL '95 is packed with everything you want in a football game.
MANUFACTURER - SEGA
THEME - Sport
NUMBER OF PLAYERS - 1 or 2
Similar Games
Viewing games 1 to 8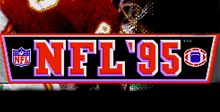 Joe Montana NFL 95
NFL '95 is a Football Sim game, developed by Double Diamond Sports and published by Sega, which was released in 1994.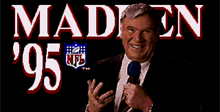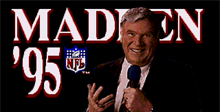 Madden NFL 95
ACTION! Ultra-competitive computer opponent. New 3-D rendered player moves; straight arms, high steppin', QB slides. Bigger field DEPTH! Complete 1994 NFLPA rosters. 48 player rosters - sub any player in any formation. Over 100 player injuries. Full NFL season, Playoffs and Super Bowl. 28 NFL and All Madden teams. STRATEGY! Windowless passing option forces QBs to read zone or man coverages. All-new Madden-designed defenses. Best play calling logic ever - based on '94-'95 NFL strategies!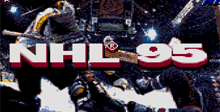 NHL 95
This is not your ordinary cup! It's the Stanley Cup! And only the victors of the grueling NHL season earn the right to have their name engraved on it. That's a whole season of blistering slap shots, board checks, hot rookies and mid-season trades. NHL '95 drops you into the opening face-off staring down the line at 84 relentless games - trying to carve your name on that Cup!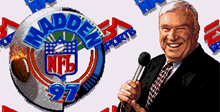 Madden NFL 97
Madden NFL '97 reloads with an arsenal of new and classic features to field the most complete Madden ever. This is NFL football... MADDEN STYLE! Motion-captured Graphics: Herman Moore skies one over the D to haul one in. Multiple Offensive Sets: The Broken-I gives your offense a new look. Create Players: Build your own dream team. Iso-Cam: Control any player! Take Rice deep against Brown? Player Trades: How about Emmit Smith for Barry Sanders?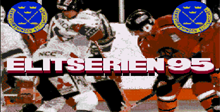 NHL 95 Elitserien
Elitserien 95 is an Ice Hockey Sim game, developed by High Score Productions and published by Electronic Arts, which was released in Europe in 1994.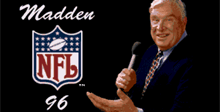 Madden NFL 96
All 30 NFL teams, including Jacksonville and Carolina. Hidden codes reveal secret teams and players. Create Player Combine Scouting - Game within the game. All-new 3-D rendered graphics and animations: over-the-top dives, kneeling catches, logos in the end zone, clothesline tackles, left-handed QB/kickers. General Manager feature - trade and sign players. Over 20 new offensive and defensive plays. Full season with Playoffs and Super Bowl.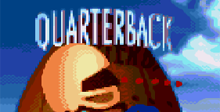 NFL Quarterback Club
NFL Quarterback Club is a Football Sim game, developed by Iguana Entertainment and published by Acclaim, which was released in 1994.
Football fury comes to the Game Gear in time for the new season. All 28 NFL teams and actual NFL players match up in League Play, Playoffs, and Super Bowl Action. The behind-the-QB view injects you right into the game. Hook up against another Game Gear with a Gear-to-Gear cable.