NFL 98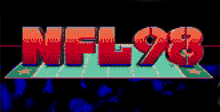 a game by Sega
Platform:

Genesis
See also: Football Games, NFL Games, NFL Games
Genesis NFL '98 brings home some new pigskin action for the Genesis. Unfortunately, it fails to deliver satisfying graphics or gameplay.
Although loaded with sharp features, like customization menus and stat tracking, the gameplay, graphics, and sound are disappointing. Players are clumsily animated, and it's easy to lose track of the ball when it's in the air—this game's almost too painful to play.
ProTip: On high-percentage pass plays, keep the defender in front of you, then come back to the pass to make the reception.
With better titles available (like those in the Madden series), sometimes the latest just isn't the greatest.
Give your offensive line time to open lanes for rushing, then use spin moves to juke defenders.
NFL 98 Downloads

NFL 98 download