NHL Breakaway '99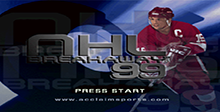 a game by Sculptured Software
Platform:

Nintendo 64
See also: NHL Games
And so the mill of Ice hockey games churns on... and on... and on...
Last year's NHL Breakaway '98 had one fundamental difference to this year's outing NHL Breakaway '99. It was set a year ago. This trend for software companies to release their old games under new names is staggering, but considering the amount of cold hard dosh they pull in, who can blame them!
NHL Breakaway '99 features every major league American ice hockey team available in the '98 version, along with a few national squads thrown in for good measure. Every team remains faithful to the real NHL line up and has been updated to correspond with the 1999 stats. There are even mug shots of every NHL player so you can see just who you're shoving up against the reinforced perspex and just who you're playing with! This helps maintain the feeling of realism that Acclaim are striving for, but considering it is one of the very few changes added, is it really worth paying out for? Mmm... we think not!
And on, And On...
Every player is depicted in sumptuous hi-res complete with ice gliding antics akin to Robin Cousins... well, a bit better than that actually. The detail paid to their physical appearance also goes a long way to add the feeling of realism that Acclaim is after. The lineup of usual game modes is also present and correct, so those looking for a touch of practice before entering a friendly, tournament or world championship will gladly find it amongst the user friendly menu system.
When it comes down to the nitty-gritty of whether NHL Breakaway '99 is any good though, it has to be said that within the year it has taken to be re-released a few new top-notch ice hockey games have taken its glory. Breakaway no longer seems the silky smooth responsive beast it was with the analogue stick, especially since NHL '99 has proved its worth. Nor does the player animation look anywhere near as impressive as the ultra-realistic movement of NHL '99. In fact, within a mere year, the wrinkles are already starting to show through and if we were to unleash that mean streak of ours we'd have to say it was looking tatty... oops, we said it. The words 'money' and 'old rope' spring to mind.
...And On, And On...
For the plus points. Breakaway still remains the most realistic ice hockey sim around compared to NHL's arcade atmosphere - this doesn't mean it gives the most enjoyment, though. The player editor is superb, dealing with the important aspects of player stats like aggression and marking rather than how much facial hair they have. The crackling of the Tannoy system, alive with ice hockey themes such as Queen's We Will Rock You also gives a dynamic rush of realism to suck you into the middle of the action. It helps, but it doesn't detract from the fact that this is still 1998's version repackaged.
For hardcore fans (and we mean hardcore) Breakaway will appeal due to Its up-to-date accuracy. For anyone else though, they'll feel sorely cheated when they realise it's just a blatant re-release of an already surpassed game.
2nd rating opinion
Not as quick and accessible as the fluid Wayne Gretzky games, but any fan of the real sport will notice some authentic attention to detail. However, that's no reason to part with the necessary cash for a rebadged version of an old hockey title.
Similar Games
Viewing games 1 to 4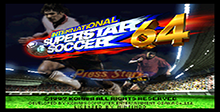 International Superstar Soccer 64
Are you ready for the most realistic soccer game the world has ever seen? Get ready for: Incredible, seemless game control; Awesome animation with over 17,000 motion captured animations; Live, intelligent commentary; Every conceivable soccer move from headers to heel passes; Multiple formations to team strategies; Trade & create your own players; 36 International teams with 16 players per team. Everything a soccer fan wants!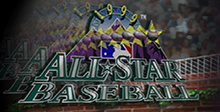 All-Star Baseball 99
With All-Star Baseball '99, development house Iguana (Turok, NFL Quarterback Club '98) extends its sterling rep for putting great graphics on the N64. The high-resolution visual feast includes multiple player shadows during night games, digitized photos of most players and extremely detailed texture maps -- just check out the ivy and row houses at Wrigley! In stadiums with Jumbotrons, the action on the big screen replicates that on the field. The athletes are fully articulated, with nice use of shading that gives them a fully rounded look. Batters are graded on multiple characteristics, including whether they are pull, straightaway or opposite-field (push) hitters. Iguana has stacked the lineup with signature stances for everyone from Roberto Alomar to Sammy Sosa.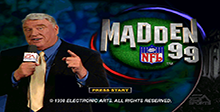 Madden NFL 99
This is all-Madden football! Legendary gameplay. One-button simplicity. The ultimate NFL experience. New super hi-res polygon graphics. Monster hits - feel and hear the impact! 250 new motion captured NFL moves. New Arcade Mode - huge hits, more fun! Over 120 past and present NFL teams. Draft, trade, create, sign, and release players.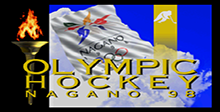 Olympic Hockey Nagano '98
For the first time in history, NHLPA pros are descending upon the Olympic Winter Games. Be a witness as regular season opponents join together as teammates. Kamensky and Yashin are laced up for Russia. Kariya and Roy get the nod for Canada. Modano and Leetch are in for the United States. The rosters are real. The graphics will make you sweat. It's country against country in this engagement. And the price of glory isn't gonna be pretty!
NHL Breakaway '99 Downloads

NHL Breakaway '99 download