OutRun 2019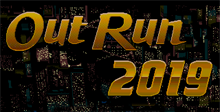 a game by Sims Co., Ltd.
Platform:

Genesis
OutRun 2019 attempts to give a good, popular racing game a sci-fi twist. Unfortunately, this Genesis game ends up as a plain horse-and-buggy ride.
Economy Car
OutRun 2019 is basically a one-player, behind-the-car perspective, four-stage race.
You pilot a space-age auto across deserts, through anonymous futuristic cities, over lakes and rivers, and across bi-level freeways.
The future of motor-car racing seems oddly sterile. If you keep the gas pressed down, your car accelerates into another level of speed, which looks and feels just like every other level. Taking turns at high speeds is easy, which knocks a big chunk out of the game's potential challenge. The game's challenge isn't enhanced either by the too polite opposing drivers who don't try very hard to impede your progress.
ProTip: Be on the lookout for ramps. They look like other cars until you're right on top of them.
Vroom With a View
OutRun 2019's graphics swerve all over the road. The backgrounds are well-done, and the daily time changes (sunrise, twilight, sunset) look grand. Your car, however, is blocky. Imagine the Batmobile designed and built by your father, and you might get the picture.
The sounds need a tune up. The tunes are mediocre motor music. Tire screeches and crash noises must be a thing of the dim past, as well.
Outdone
If you're looking for out-of-this-world car fun, pull into another garage. There's little challenge on this easy street. However, if you don't like the overly realistic and demanding game play involved with some racing sims, you may want to take OutRun 2019 for a test drive.
When you get to a fork on the road (there should be two in each level), remember this: If you went right at the first turn, go left at the next one.
OutRun 2019 Downloads

OutRun 2019 download
A futuristic follow-up to Sega's 1986 arcade hit, Out Run 2019 continues the Out Run franchise's signature high-speed style across a series of checkpoint-filled highways. Players take control of a rocket-powered blue racecar that can reach speeds close to 700 miles per hour. As with previous titles in the speed-driven series, the object is get from point A to point B as quickly as possible. To help accomplish this, the car comes equipped with turbo mechanism that will automatically kick in after a period of mistake-free driving.
The game's four stages offer multiple branching routes, with the goal being to complete each route within 80 seconds. Making things difficult are various road hazards that may cause the vehicle to flip or spin, aggressive opponents, and routes filled with blind spots and sharp turns.
You'll see detailed cities, snow-capped peaks, the expanses of the desert, and even some ancient ruins along your journey. Equipped with turbo boosts, a detailed readout, and your best strategy, you'll experience 360-degree spins, brutal wipeouts, deadly flips, speed ramps, and more. Think you've got what it takes to outrun the fastest futuristic vehicles ever?
OutRun 2019 features:
Futuristic racing
Speeds of up to 700 mph
25 routes
Five levels
One-player action