Panorama Cotton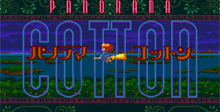 a game by Sunsoft, and Success
Platform:

Genesis
Manufacturer: Sunsoft of Japan
Machine: Mega Drive
Theme: Shooter
Release: July 1994
The 3-D arcade shooter, under development by Success, will be coming out under the Sunsoft label. It's based on a very cute arcade shooter with a 90 degree twist.
Play as Cotton, a young witch in training, who must get astride her flying broom to fight the hordes of evil beings set loose on her world. Helped by the fairy, Silk, lots of magical spells can help take out the bad guys.
Panorama Cotton Downloads

Panorama Cotton download
Ever wanted to fly on a broomstick shooting my little pony's whilst chasing a half naked pixie?, Well your in luck!...
This has to be the weirdest game i have ever played, God bless the Japanese!, Wipes tear from eye...