Pebble Beach Golf Links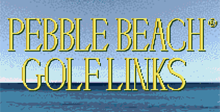 a game by T&E Soft
Platform:

Genesis
See also: Golf Games
With Pebble Beach Golf Links for the Genesis, Sega Sports continues to chip away at EA Sports' hold on high-quality sports games. Impressive graphics, smooth game play, and a detailed interface carve a top position on the leaderboard for Pebble Beach.
Fore!
The game presents an exact replica of the world-famous coastal California course. Up to four players can join in five types of game play, including Skins, a sudden-death hole-by-hole challenge, and a Tournament against 48 pros.
ProTips:
Always go for the bird's- eye view on your first shot. Many holes have sharp angles and tall trees that block your regular view.
Use the compass at the bottom of the screen and your foot placement to compensate for strong winds.
Call upon your caddy for straight advice in tight situations.
Placing your right foot forward will cause a left curve on your drive, and vice versa.
One of the main attractions is the player interface. Well-placed interactive windows inform you of your stance, strength of swing, and wind. Each unobtrusive window is easy to read -- and these windows are crucial as you try to make your best shot.
What a View!
Pebble Beach's fantastic graphics deserve special mention. In addition to faithfully replicating the real golf course, the players and the environment are well-rendered, with great attention to detail. While most golf games offer a couple of set angles from which to view the course, Pebble Beach gives you 360-degree views, both from where you are standing and from the hole. You can also elevate the view to six different angles, ranging from a ground-level look to an aerial overview.
Tee Time
Pebble Beach Golf Links is one of the most comprehensive golf games available. Golfers of all skill levels will want to take this game out for a couple rounds. See ya in the clubhouse!
Pebble Beach Golf Links Downloads

Pebble Beach Golf Links download
Machine: Genesis
Manufacturer: Sega of America/by T&E Soft
Sega Sports' latest trip to the golf course, Pebble Beach Golf Classic, looks graphically similar to PGA European Tour, but the likeness ends there. While there's a wide variety of options such as Skins Match and tournament play from which to choose, you can play on only one course, Pebble Beach in California.
The game keeps a record of each round then shows you extensive stats that let you see how you're progressing.
But for a game in which accuracy can mean the difference between a short putt and spot in the bottom of a lake, Pebble Beach's control just doesn't deliver. With so many different indicators and diagrams to analyze and adjust, you might begin to think you're piloting a jet airplane rather than hitting a little white ball.
Each club has a maximum distance, and a power meter lets you drive the ball up to 100 percent of that distance. This works fine when you're going for big yardage, but when you get close to the pin, your shortest club is a sand wedge that maxes out at 90 yards. So when you're only about ten yards from the hole, you've got to eyeball the meter and try to decide what percentage equals those ten yards.
The meter's circular shape doesn't help matters - it's more difficult to use than a straight bar meter, so often when you think you've nailed the distance, the ball goes further or falls shorter than you expected - a lesson in abject frustration.
If you're looking for a round of golf and don't care whether or not your game sets high-score records, give Pebble Beach a try. But those of you who hate golf because you end up chasing a little white ball all over the course certainly won't want to do the same in a video game.
Manufacturer: Sega
Machine: Genesis
Theme: Sports
Release: 1994
People say:
7
Golf is a strange title. If you just look at it, the subject turns most players off. Give this one a little time, and it'll grow on you. The graphics in Pebble Beach are nice, and the many options make for a realistic cart. My only problem is going up against the computer opponents who seem to have mastered the game. If you want a good game of golf, this one will whet your appetite. It's good, but you must get into it.
7
Pebble Beach Golf Links is one of the few Genesis golf games. I've seen all year that boast some pretty impressive qualities. It has enough options to give any golf buff a run for their money. Unfortunately, the novice player can really get lost in all the technical stuff. Anyway, it provides a solid game of golf, but it plays kind of slow and the animation isn't the smoothest. A solid title with a few shortcomings.
6
It just seems that the majority of the golf games out there are commonly linked with the same features: club selection, stance, wind direction, and strength. When all are put together, it makes for a slow, boring game. The scrolling is slow. The cut scenes are slow. The enter pace is slow. Players with short attention spans like me don't have the patience for this. Granted, it's a good simulation, but only for golf aficionados.
5
A lot of Japanese businessmen are getting into the world of golf, but I've never seen the attraction. Games like this are slow-paced and really don't have the impact to keep my attention. As a fighting game fan the subtleties of golf are hard to get used to. This cart has simple graphics and basic choices of club, stance, etc. Fans of the sport may like it, but it doesn't have the high-end graphics of the PC links games.
Play one of the world's most difficult and challenging golf courses on your Nintendo! Super-realistic play lets you control every aspect of playing real golf!