Pop'n Twinbee: Rainbow Bell Adventures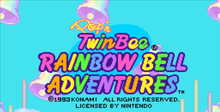 a game by Konami
Platform:

SNES
See also: Pop'n Twinbee Games
Manufacturer: Konami of Japan
# of players: 1 or 2
Difficulty: Easy
Available: December 1993
Number of Levels: 6+
Theme: Action
Twinbee, the star of the popular series of vertical scrolling shooters, makes his debut in a poppy side-scrolling action game. Twinbee and his friends, Winbee and Gwinbee, are summoned by a princess in a distant galaxy who has been captured by a mad scientist. Either one or two gamers can play with two of the three robots. Each one has different weapons, jumping, and weapon charging characteristics. At first, Twinbee and Co. are capable of only punching their foes, but they soon get to power-up. Collect the hidden bells to get new powers.
As you can see, the graphics are heavy on the pastel side. The game play is deliberately made simple so it can appeal to amateur game players. Don't get me wrong! The zippy game-style and furious action make it a hoot for pro-garners, too. It has a Battle Mode in which you can take on a friend. Overall, it's a cool cart.
Forest Zone
In the Forest Zone, you will get acquainted with the control. Ride the clouds to get past the spikes to the exit.
Water Zone
The Water Zone gradually gets more and more wet. Start off in the deep dark cave and eventually go underwater.
Ice Zone
The slippery Ice Zone is a dangerous place. Slick inclines and avalanching enemies will give you trouble.
Pop'n Twinbee: Rainbow Bell Adventures Downloads

Pop'n Twinbee: Rainbow Bell Adventures download
Twinbee Rainbow Bell Adventure is Konami's latest cartridge with that unusual little mech. The first thing that comes to mind, upon seeing this game, is that it's so darn cute.
This side-scrolling adventure starts where the shooter left off. You'll face similar enemies, but this time you have a few tricks up your sleeve. When in doubt, you can whip out your trusty hammer, and pummel the baddies. Remember, Twinbee Rainbow Bell Adventure is not a kiddie game. Don't be fooled by its looks.