Pop'n Twinbee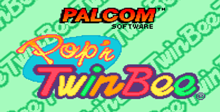 a game by Konami
Platform:

SNES
See also: Pop'n Twinbee Games
This rather cute shooter is a definite one of a kind! Similar in looks to Parodius, Pop N' Twinbee is a two player cooperative game where shooting is the ultimate objective! You and a friend will battle against bizarre enemy ships with goofy weapons!
You can collect power-ups that give you shields, options, and the ability to punch enemies for big points. It's a strange game with a unique attitude!
Pop'n Twinbee Downloads

Pop'n Twinbee download