Power Strike 2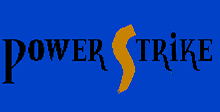 a game by Compile
Platforms:

Sega Master SystemGameGear
See also: Power Strike Games
Manufacturer: Game Gear
Machine: Sega/Compile of Japan
Anyone who likes shooters will more than likely dig the Aleste series. It's almost a given. How does it translate onto the portable format? Very well, in fact this versatile sequel has more special effects than the original game! It's the best portable shooter around. The power-ups and intensity rival no one. Shooter fans hope it comes to the States, for your sake!
Power Strike 2 Downloads

Power Strike 2 download