Prince of Persia 2: The Shadow and the Flame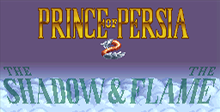 a game by Titus
Platform:

SNES
See also: Prince of Persia Games
Fans of Out of This World, Flashback and the original Prince of Persia get ready. A new addition is coming to the Super NES. Prince of Persia 2 lias been released on oldie platforms but never on the Super NES. 7lie game features super-realistic character animation. The Arabian motif will remind gamers of the Disney movie Aladdin. Players will face dozens of various enemies-dead and alive. There is plenty of mythological creatures to befriend and conquer along with dozens of traps and puzzles to complete to advance. It should be interesting to see how this one does in a 32-Bit world.
MANUFACTURER - Titus
THEME - Action
NUMBER OF PLAYERS - 1
Prince of Persia 2: The Shadow and the Flame Downloads

Prince of Persia 2: The Shadow and the Flame download
Prince of persia 2 Goes along the same lines of the first game with solving puzzels sword fighting and being nible on you feet are all needed to complete this taxing game, The slightest differance between this and the the original is this has less puzzels and more sword fighting, The graphics have been reworked to add more detail to the already great animations of the prince, Back grounds have also been under the knife with more detail too, Sound has not really change though, In a whole this game is very hard but leaves you with a sence of achievement with each level passed.