Race Drivin'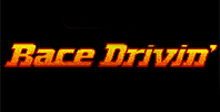 # of players: 1
Difficulty: Moderate
Available: November 1993
Number of Levels: 5+
Theme: Driving
Attention racers, start your engines! If you have ever dreamed of being a stunt driver or just feel the need for speed from time to time, then Race Drivin' is your game. You don't need to strap on a helmet or buy a pair of those fancy racing gloves - all you need is a Sega Genesis and this great new cart. The game has three courses adapted from the coin-op original and an added custom track, allowing you to experience the banked curves and the awesome 360 degree loop on your own custom designed racetrack. With polygon-style graphics and a variety of options, Race Drivin' should appeal to the racer in all of us. Don't forget to buckle up and remember to stay on your side of the road!
Race Drivin' Downloads

Race Drivin' download
Machine: Nintendo
Theme: Arcade
The empire strikes back. The Atari empire, that is. Not content with having produced Hard Drivin' - the finest race-car simulation in the universe - Atari Games has released Race Drivin', a sequel that blows the doors off the original.
Race Drivin' offers four tracks to choose from: the original Stunt and Speed Tracks, plus two completely new courses, the Autocross and the Super Stunt Track. You also have your choice of four cars: the two Sportster models from Hard Drivin'; a snazzy top-down Roadster, whose handling outperforms its horsepower; and the Speedster, an all-out neck-snapper. Only the Sportster is available with an automatic transmission, but trust me, you'll want the manual trans.
The Autocross is a deceptively simple course. Although it's basically a D-shaped track, it has so many little twists and turns that you'll rarely get out of second gear.
After your first lap, you'll face an interesting new opponent: an image of yourself (rendered in wireframe graphics) that duplicates your previous best lap. A dusty-brown desert landscape gives this track a suitably gritty appeal.
The Super Stunt Track is where Race Drivin' really shines. Twice as long as the original Stunt Track and twice as difficult, the Super Stunt Track is a wild roller-coaster ride with you at the controls. You'll find yourself spending almost as much time in the air as on the road. After zooming up and down a steep mountainside (watch out for those cows!), you'll pass a roadside diner, which is where the fun really starts. A huge vertical loop followed by two corkscrew loops lead to a hill that's practically 90 degrees straight up!
Watch your speed on the way down, because at the bottom of this monster is a sharp turn leading into a tunnel. And inside the tunnel is a still-smoking car-truck-train wreck. Experienced S.T.U.N. Runner players will know how to avoid this mess by driving on the tunnel wall.
Other amazing options in Race Drivin' let you first race a computer-controlled car, then race yourself in the computer's car. And by linking together a pair of Race Drivin' cabinets, you can compete against another human.
It just doesn't get any better than this - not yet, anyway.
This is another so-so entry in the driving scene where the truly innovative titles (Chase H.Q. II and Rock & Roll Racing) tend to stand out, while others like this get lost in the crowd. The scrolling is very choppy.
You have played the ultimate driving simulator in the arcade! Prepare yourself for the home version of Race Drivin'! Everything has been included for your driving pleasure: four hot sports cars, three grueling tracks and hordes of tough opponents. Race on the Super Stunt Track and test your skill in the mountain or the devastating corkscrew loop! Watch out for computer cars that try to slam into you!
People say:
4
On the surface, this game does indeed pack the entire arcade experience into a four-meg chip. Unfortunately, with the lack of memory comes a lack of control and proper data updating. In the end, the game proves to be choppy and erratic, conveying none of the action of excitement of the arcade original.
5
This game had a lot of potential but it appears that too many compromises have had to have been made in getting it to fit in its present configuration. The game doesn't play well as the control is very difficult. It also plays slow, and there is just no sensation of real race drivin'. At best it is only average.
4
This is one of the choppiest drivers that I've seen on the SNES. After seeing how well the SNES can display polygon graphics, I was disturbed that this cart had so much lag time in the scaling of the graphics. The play control is very unsure, and even hitting the cow isn't as much fun. It's not the best translation of a great game.
4
Ouch! Race Drivin' just doesn't have the punch it should. I need a steering wheel and a strobe light to keep up with the frame-by-frame animation here! The scaling is almost non-existent, and without a steering wheel, so is the control. Until such a peripheral comes out, I can't see spending big bucks for crash replays.
Get Back On The Fast Track
THQ has come out with its sequel to Hard Driving and it was a race worth the wait. The game offers four cars to choose from, including two Lamborghinis (one with an automatic transmission) a Porsche 914 roadster and a Corvette. They also have three tracks for you to test your skills on and that of the car's, as well.
THQ has carried over the instant replay feature from Hard Driving, too. It really makes the crashes fun (there is nothing like a good flaming death). It also allows you to see yourself jump, fall off mountains and basically reek havoc with your car. The forward scrolling graphics are up to par with this game's predecessor. You really feel like you are moving forward.
The creator's have also left in the time limit. You must get to the next checkpoint before time runs out, or the game is over (34 seconds for the autocross track and 70 seconds for the other two).
Now, buckle your seat belt and gear up for serious Race Drivin'!