Rainbow Six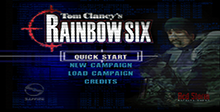 a game by Red Storm Entertainment, Inc.
Platforms:

Nintendo 64GameBoy Color
See also: Rainbow Six Games
People say:
6
It's amazing what they can cram into the Game Boy these days. Whether something is a good idea or not, you have to admire the talent that goes into cramming the major elements of a game like Rainbow Six and making it 2D, 8-Bit and portable. Somehow Crawfish has managed to capture all of the basic story elements from the first PC game and convey them adequately. Pretty amazing. In fact, it actually manages to cram in more of the strategy elements in than Rebellion's lackluster PlayStation version. Impressive indeed. The only problem is, the resulting game is nowhere near as fun or as tense as its grown-up 3D brothers and sisters. Part of the fun with the other versions is sneaking around the environments and ducking down so you're not seen. The transfer to top-down 2D kinda removes this element, and you end up just walking around maps that are too damn big, and not filled with enough bad guys to shoot at. By removing the uncertainty and the stealth aspects and neglecting to replace them with all-out action, it seems that Red Storm has missed out on something that could've been very absorbing. Unfortunately, it all ends up being rather boring instead. This is an impressive game "on paper," but you'll very quickly tire of it. Graphically it can get hard on the eyes at times too.
4
Rainbow Six for the Game Boy tries to cram in every feature of its PC big brother. You get all the weapons, the gear, the team members, the planning mode and the story. Trouble is, not much survived the miniaturization. Planning is a chore-especially figuring out how to place Go Codes. The game itself fails to capture the tension of the original. Hostages and teammates often get stuck on walls when following you. This thing's for patient gamers only.
matter how you look at it. By taking away the "first-person" POV, you're castrating the realism, atmosphere and tension of the original. Then you give the game a bunch of sophisticated options (like organizing squads and equipping agents), and you've automatically alienated the handheld shooting fans. What other demographic are you supposed to be reaching out to? Not this reviewer."]
to. It's just too limited. Rainbow Six needs the kind of immersion afforded by 3D, or needs to be completely adapted to take advantage of the limits of 2D. Some have been able to achieve it, but this just isn't enough game to hold my interest."]
Similar Games
Viewing games 1 to 4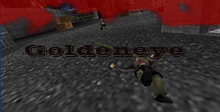 GoldenEye 007
You are Bond. James Bond. You are assigned covert operations connected with the GoldenEye weapons satellite. M will brief you on your mission and objectives from London. Q Branch will support your efforts with a plentiful supply of weapons and gadgets. Moneypenny offers you light-hearted best wishes and you're off! Your mission begins in the heavily guarded chemical warfare facility at the Byelomorye Dam in the USSR. Look and shoot in any direction as you navigate 12 interactive 3-D environments. Use stealth and force as you see fit in matters of international security. Consider the military personnel expendable. You are licensed to kill!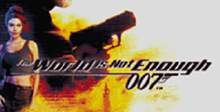 The World Is Not Enough
Experience the intensity of being the world's top secret agent. Equipped with a full arsenal of of Q-Lab gadgets and weaponry, you must be suave, resourceful, and lethal as you carry out action-packed missions based on the blockbuster movie. Are you cool under pressure? Deadly when necessary? Of course you are -- you're Bond...James Bond.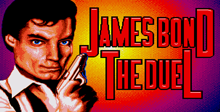 James Bond - The Duel
Your name is Bond. James Bond. Your mission? To infiltrate a remote Caribbean island in order to defeat a mad professor and his loyal followers.
Rainbow Six Downloads

Rainbow Six download