Rat Attack!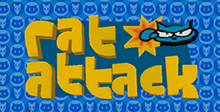 a game by Pure Entertainment Games Plc
Platform:

Nintendo 64
Whilst we never thought that Rat Attack was going to be a blinding slice of videogame action, when the review copy rolled Into the office this month, we found a surprisingly fun little slice of frantic puzzling mayhem. Which is nice.
The aim of the game is to, urn, catch rats, and you're allowed to 'be' one of a number of, er, 'Scratch Cats' in order to eradicate them. Each cat has differing abilities - speed, strength, and most importantly, something that we'll call 'Box Trapness'. You see, catching rats is a case of pressing A, which allows you to drag the outline of a - yes - box trap across the floor, positioning it over the creatures you want to catch.
With the number of rats ever increasing, their attacks on furniture (if they eat enough, it's game over), dogs, monster rats and other annoyances popping up - including, believe it or not, bloodthirsty hoovers - Rat Attack quickly becomes a game of lightning reactions and sharp reflexes. It's by no means a classic but this is simple, hectic and enjoyable nonetheless.
Similar Games
Viewing games 1 to 4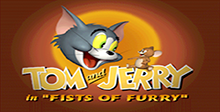 Tom & Jerry in Fists of Furry
One-on-one fighting! Tag team tournaments! Just choose your character and then select the location. All the environments are modeled after scenes from your favorite Tom & Jerry episodes. An "All-Star" line-up of characters such as Tom, Jerry, Butch, Spike, Tuffy, and Duckling help to make this the ultimate Tom & Jerry experience! Weapons include shovels, bombs, red-hot pokers, tennis rackets, furniture and an assortment of fruit, plus there are countless other tricks, traps and surprises to be found. It doesn't get any better than this. So go to your corner, wait for the bell and come out fighting. Just keep an eye out behind you, because no one fights fair in this game!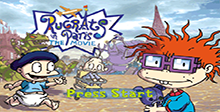 Rugrats in Paris: The Movie
The Rugrats are going to Paris! Join Tommy, Chuckie, Kimi and the rest of the Rugrats gang as they journey through Paris and EUROREPTARLAND. France will never be the same. Roar through the streets of Paris, win carnival games and prizes, get choppin' with Chuckie Chan, bump your buddies on the bumper cars!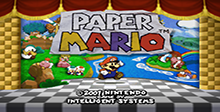 Paper Mario
Mario pals around in an all-new action adventure! Mario's back in his first adventure since Super Mario 64, and this time, Bowser's bent on preventing a storybook ending. When Princess Peach is kidnapped, Mario plots to rescue the seven Star Spirits and rid the Mushroom Kingdom of Koopa's cruel cohorts. As he travels from the tropical jungles of Lavalava Island to the frosty heights of Shiver Mountain, he'll meet up with seven all-new companions... and he'll need help from each one or there'll be no happily ever after.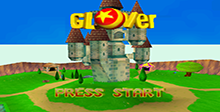 Glover
The Kingdom's peaceful world has been shattered! The wizard, while mixing potions with his magical gloves has caused a huge explosion, turning him instantly to stone and dislodging the seven crystals that give the Kingdom its energy. Without the crystals, the castle and its world will fall apart and the wizard will be lost! It's down to Glover, one of the magical gloves, to find the crystals, now disguised as rubber balls and return them safely to the castle. Guide Glover and the balls through seven magical worlds full of puzzles and hidden surprises. Watch out! The evil glove is lurking in the shadows, and he'll stop at nothing to foil Glover's attempts at restoring peace.
Rat Attack! Downloads

Rat Attack! download