RBI Baseball 93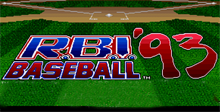 a game by Tengen, and Atari Co.
Platform:

Genesis
See also: Baseball Games, RBI Baseball Games
The "Boys of Summer" are back in RBI '93, an improved and updated version of the classic RBI Baseball series for the Genesis. Licensed by the Major League Baseball Players Association.
RBI '93 features complete up-to- date rosters for all 28 Major League teams, including the Florida and Colorado expansion teams. In addition to enabling you to play all your favorite baseball heroes, this game's loaded with new options and features that make it a must-play for all baseball fans. Batter up!
Play Ball!
RBI '93's prolific set-up features give it appeal to video ball players of all calibers. Play a single game, a best-of-seven tournament, or a division race. You can even take on every team in the league. Go solo against the computer, butt bats against a buddy, or select the teams and watch the computer play itself while you munch on peanuts and hot dogs in the box seats.
If you are worried about challenge, don't! You can set difficulty at Easy, Normal, or Hard. RBI '93 plays each team and player according to its real-life strengths and weaknesses, so novices definitely don't want to start off by taking on Oakland or Toronto in the Hard setting. If things really get tough, a password feature enables you to pick up play throughout your entire season.
In addition to the '93 Major League rosters, you can play the Division Champs from '84-'91 and the '89, '90, and '91 All-Star teams from both divisions. For more team mixing and matching, the Create Teams mode enables fans to build an ultimate "Dream Team" from all the rosters in the game. And since you have rosters from seasons past, you can pick certain players from their better seasons.
ProTip: Listen closely to the announcer as he I.D.'s the defensive player with the best chance of fielding the ball.
RBI '93 is the statistics-enthusiast's friend. It provides detailed stats of all teams and players to help you make decisions. The computer also automatically updates each player's stats during games and throughout the season.
Before the pitch, keep moving in the batter's box to offset the pitcher's aim.
Inside pitches you have a better chance of striking out batters.
If all these features aren't enough to keep your bat up, other new options include a great "situations" mini-ball game and 17 different "Game Breaker" situations based on actual baseball lore. (It's the last game of the series, bottom of the ninth, two men out, the winning run is on base, and you're up at bat -- what are you going to do?!) You also get a more active pitcher, the ability to switch between computer-assisted and unassisted defense, and a defense Practice mode to hone your fielding skills. As in RBI 4 you also get to choose any player and enter him in a 20-pitch Competition in the Home Run Derby.
Pennant Possibilities
The market is glutted with baseball games for all of the systems. To stand out a game must have excellent features, sharp graphics, responsive controls, and excellent sound and graphic effects. RBI '93 scores on all counts. You don't have to read the manual to play the game, but its detail includes complete rosters and stats for die-hard baseball fanatics. It's a safe bet that RBI '93 will vie for the title of Best Baseball Game of the Season! Play ball!
RBI Baseball 93 Downloads

RBI Baseball 93 download
Difficulty: Moderate
Available: May
Theme: Sports
A Fly Ball to Base
As the crowd cheers and does the wave, your batter runs past home plate to score yet another run for your team! This is baseball at its best. What makes this sports cart different from other baseball games is that there are so many features that you can access besides just playing exhibition or a full season. There is an options menu that can change the type of game you play, the series type, the number of players (including the computer playing against itself), difficulty, music, password, and a new defense mode which allows a player to have the outfielders be controlled manually, automatically, or have the computer assist in the plays. Create your teams from the roster which contains the American and National leagues, All Stars, and real players from specific years. After you select your lineup and pitchers, you're ready to play ball!