RBI Baseball 94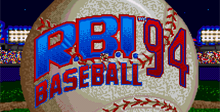 a game by Tengen, and Atari Co.
Platform:

Genesis
See also:Baseball Games, RBI Baseball Games
Machine: Game Gear.
Manufacturer: Time Warner.
There may be a baseball strike, but now you can squeeze in nine innings whenever you feel like it. There are a few control problems, like players picking off their own teammate's throws to home plate, but this is a good travelling game.
RBI Baseball 94 Downloads

RBI Baseball 94 download
Machine: Game Gear.
Manufacturer: Sega.
With artwork and animation adapted from the Genesis version, RBI 94' has over 800 real players from the 28 big league teams, complete with '93 stats. Use the actual 1994 baseball schedule to complete the full 162-game season, playoffs and World Championships!
It's already a popular series, but this year RBI Baseball '94 has been improved to become one of the top baseball games available. New features put this one right into the World Series.
It's Going...
The features that made RBI '93 a hit are still here. You get all the actual major league players, teams, and stadiums, tons of stats from the '93 season, and a variety of options for length of season, player swaps, and more. You also get the popular Home Run Derby. If you want to see Cal Ripken, Jr. jerk one out of Camden Yards, this is the game for you.
ProTip: Use Spitballs with caution. They don't always drop, and often turn into slow, easy-to-hit pitches.
The improvements are dramatic. The field is much bigger, the game is much faster, and the stats are more complete. You get new, more realistic rules, such as the Infield Fly Rule, a new Pickle game for practicing your base running, and a 162-game season that matches the '94 schedule exactly. The computer is also smarter and will now steal bases on your pitcher if you're not careful. Plus, there's a new-and-improved Tengen team -- beat these high-rated designers of the game, and you'll face an even more awesome Dream Team!
The players perform according to their '93 stats, making Bonds the most complete player in the game. He should always swing hard, whereas weak hitters can sometimes try to bunt their way on base.
...Going...
The graphics and sounds have also been cranked up to new heights. The players are smoother than ever and have a wider variety of motions (pitchers have additional sidearm deliveries). Also new are the up-close player portraits. As for the sounds, they're top-notch and feature the recognizable voice of Jack Buck. Crazyball sound effects add humorous Looney Tunish boings to the action, a nice touch for younger players.
...Gone! A Home Run!
It's a homer, all right. RBI Baseball '94 stands with World Series Baseball as the best baseball games of the year so far.