Ready 2 Rumble Boxing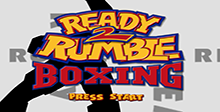 a game by Midway
Platform:

Nintendo 64
See also: Championship Games, Boxing Games, Ready 2 RumbleGames
In Ready 2 Rumble Boxing, Midway has created a game with the kind of intense look, sound, and action necessary to merit the catch phrase "Let's get ready to rumble!"
Ready 2 Rumble features 17 different fighters, each with a different fighting style and special moves. It is played in two different modes: arcade and championship. You start off with access to 13 fighters in arcade mode and three in championship mode. As you advance boxers in championship mode, you gain access to more fighters, eventually getting all 17. Once you have advanced all 17 fighters to champ status, you have won the game.
Gameplay, Controls, Interface
Movement in R2R is centered on your opponent. You use either the analog stick or control pad to advance, retreat, and circle the opposing fighter. Since the Z-button is not used in the default settings and you have complete ability to reconfigure the controls, there isn't the bias toward using the analog stick that most games have.
The point of view options in R2R are tremendous. There are six different camera options you can use, each of which highlights a particular aspect of the game. Normal mode rotates with the fighters at a medium distance, with Player 1 on the left and Player 2 on the right. This keeps the controls consistent and is the easiest mode to use -- you still get good detail. "Rotate About Players" mode slowly circles the fighters at a medium distance. This gives you a better look at the fighters but can catch you off guard when the left-right directions reverse.
"Ringside View" and "Rotate About Ring" modes are like "Normal" and "Rotate About Players" modes, respectively, but from the edge of the ring. While these modes give you a better view of the ring, you lose detail, particularly in the "Rotate About Ring" mode. First Person Player 1 and 2 modes are from the first person view of Player 1 or 2, somewhat like the arcade classic Punch-Out. While this mode makes maneuvering and fighting more difficult, it gives you the best possible detail of the fighters. It is definitely worth learning to use.
The game is all about fighting and it doesn't disappoint. Only six buttons are used in the game -- High and Low Blocks, High Right and Left Punches, and Low Right and Left Punches. These basic commands are used in different combinations with the analog stick/control pad to perform various punches, blocks, and dodges. Additionally, each fighter has a number of special combo moves, which allow for truly impressive attacks. The fighting is very easy to learn for all levels of players, and the customizable controls give people who specialize in certain fighters a chance to become truly brutal. The different fighters come with various fighting style options, from slugging it out toe-to-toe, to hit-and-run tactics.
Arcade mode is straightforward and can be played in one or two player modes with any of 13 (and later up to 17) fighters. Championship mode consists of building up the fighters to the level of champion. You start off with three fighters, adding more as you advance in ranks.
You have several options in championship mode: training, title fights, prize fights, exhibition fights, and trade fighters. Training allows you to spend money on a number of training regimens to increase your fighter's Strength, Stamina, Dexterity, and Experience. Title fights give you the chance to advance your fighter through the ranks to champion. During prize fights you can make money from the match purse and by making side bets. Exhibition fights are similar to prize fights, except that you play against another player's gym and the wager comes out of the loser's gym. The trade fighters option makes it possible to exchange fighters with another player's gym.
Multiplayer
There are two different ways to play R2R multiplayer. You can play the standard arcade style of one off matches or you can interact with other people's gyms in championship mode. Exhibition matches allow you to build up your fighters while playing with another player, reducing the solitary nature of the storyline mode. The ability to trade fighters with other people gives you a whole new level of interaction, allowing you to build up your gym without actually using all the fighters yourself. While it's a cool idea, in this case, its usefulness is limited to players not interested in advancing all of their fighters.
Graphics
The graphics are great! They move smoothly and don't suffer from the overly angular look of many 3D games. The fighters have good detail on near views and you get to see them get bruised as they take a beating. You even see their faces contort when taunting. Unfortunately, the farther back the camera is the worse the detail gets, becoming annoyingly grainy at ringside view. The audience detail varies considerably -- at times, you are almost able to pick out details from spectators. Other times, they look like a flat multicolored panel in the distance. This is not a big deal, since you are generally too busy to notice the audience much. Still, it could have been more consistent.
Audio
They sound effects for R2R are excellent. The designers included a full array of sound effects for virtually everything you do in the ring, including taunting your opponent. While the taunts don't appear to have any actual game effect, they are entertaining. They even got Michael Buffer to do the voice of the announcer! The music is also good, both catchy and appropriate without getting irritating.
Originality
Normally, storyline modes do not allow for interaction with other human players. The ability to fight other peoples' boxers in exhibition matches was pretty cool. The fact that you can bet money on these matches as well as gain experience gives them a genuine impact on the storyline version of the game.
Bottom Line
Ready 2 Rumble is a great game with strong graphics, sound, and gameplay. The championship mode offers multiplayer interaction not normally found in the storyline parts of fighting games. While fighting game fanatics will probably get bored without some of the fancier moves, most people should be quite happy with the options available. This is definitely a worthwhile game to play. It should provide enough hours of gameplay to be worth buying outright.
Similar Games
Viewing games 1 to 4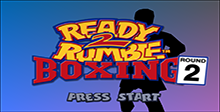 Ready 2 Rumble Boxing: Round 2
The King of the Ring is back! 17 boxers: Afro Thunder and company return with 13 all-new characters including four special celebrity characters! New rumble modes: Save up your power for a Knock-Em-Out-of-the-Ring Punch! Party modes: New Tournament and Team Battle modes for head-to-head competition for you and all your friends. New mini-games: Increase your speed, strength and agility by training with rumble pads, jump rope, speed bag and more. Improved single-player AI: Smarter, harder, and faster!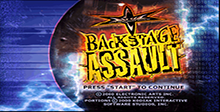 WCW Backstage Assault
No-Holds-Barred Brawling! Over 50 WCW superstars, including the women of the WCW! 14 playable Backstage Areas, including the new Semi-Trailer Area. Destroy your enemy faster with power-ups! New - First Blood Mode and Torch matches! Use your environment as a weapon!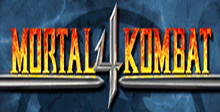 Mortal Kombat 4
Shao Kahn has been defeated at the hands of Earth's warriors, and now Shinnok has escaped to his confines in the Netherealm. The war has resumed once again. This time, the battle CAN be won by mortals!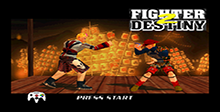 Fighter Destiny 2
Enter the arena and do battle with the toughest, most skilled martial arts experts on the planet. As one of the international fighting elite, you'll vie to become the true authority of hand-to-hand combat. Your destiny awaits. Defeat any of your 11 opponents and gain their abilities. Launch 5 different modes of attack, from Training to Record Attack. Adjust scoring, ring sizes and difficulty settings. Compete in points-based martial arts tournaments. Force your opponent to relive defeat in instant replay. Gain new abilities and skills when you face the Master in the Fighter's Arena.
Ready 2 Rumble Boxing Downloads

Ready 2 Rumble Boxing download