Road Rash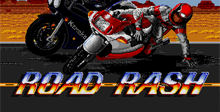 a game by Electronic Arts
Platforms:

Genesis

Sega Master SystemGameGear
See also: Bike Games, Road Rash Games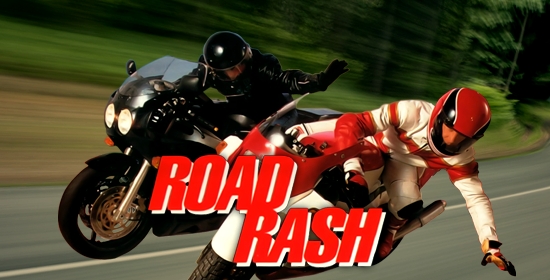 EA's Road Rash was popular on the Genesis - so much so that it prompted last year's sequel, Road Rash 2. It's only natural that it would make a run to the portable market, and U.S. Gold's Game Gear version revs up some minimotorcycling fun!
You're Not Pedaling Those Wares
The story begins with some friendly off-track cycling. Okay, so there's nothing friendly about it as racers take their bikes to 150 mph while kicking, punching, and clawing their competition. Winning is simple: Handle your throttle and keep your opponents from throttling you. If you're lucky, you'll clean up with some greenbacks to get your-self a better bike.
Controlling your bike and your rider's actions is a piece of cake. There's little more to it than keeping your cycle between the lane lines and taking an occasional poke at a nearby racer. Just be sure you don't get taken out yourself on some corner. The action gets more intense - and more difficult to get through in one piece - as you successfully compete from race to race.
Riding a Vicious Cycle
The graphics are very clean, Especially given the size of the screen. The animations of the niders don't need to be too extensive, but they are easy to see on the Game Gear. The landscape graphics move by seamlessly and without a flicker. You'll quickly get caught up in the behind-the-bike perspective, leaning as you swoop through tight turns on the beautiful road.
The audio treatment in Road Rash is equally good, offering ample sound effects and accompanying music. The sounds don't get in the way, but it's still easy to get into the action as the tires chatter and your opponents thump to the pavement as they slide out in the turns.
Give Me ё Brake!
All the elements put together create a wonderful game -and a real task to battle through. It's a lot of fun to work from level to level, to conquer the windy roads and your quality competitors. The challenge is high, so you'll have hours of fun in the Road Rash.
ProTips:
Obviously, it's most Important to stay on your bike. Keep your eyes peeled for obstacles in the road, like cars and animals.
Get used to pumping the accelerator while holding down the Punch button - that Is, if you wairl to play the part of the tough biker.
Natasha and the others will give you pre-race advice. Keep your eyes open for it.
Similar Games
Viewing games 1 to 2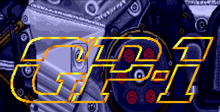 GP-1
It is a racing game, released in 1994. The gameplay and graphics are similar to Super Mario Kart, but instead of driving karts, the player drives a motorcycle.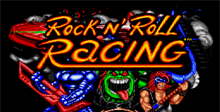 Rock n' Roll Racing
Use laser cannons, cluster bombs and super boosters to annihilate your competition as you race to different plantes. Choose from 5 different hot racing machines. 6 different planet race tracks. Fully digitised sound tracks. Radical weapons on all cars.
Road Rash Downloads

Road Rash download
If you've heard of this race game and thought it sounded hot, wait until you slap it into your Genesis system and twist the throttle! Road Rash enables you to race a high tech sportbike against 15 other bikers who try to beat you to the finish and also try to beat you over the head. While you retaliate you must avoid cars, cows, cops, trees, rocks, and just about every inconvenience imaginable while cruisin' the best of California's backroads at 140 mph.
Hey Ho, Let's Go
Button A is for brake, Button B is for go, and Button C is for (here's the good part!) slap, punch, and kick. Every time you hit the road you face 14 other Road Rashers. As you try to pass by they'll punch you in the head, kick you into a horizontal position, or, if they're nice, just run you off the road.
Your job is to pass as many other bikers as possible. Sometimes you gotta' do a little bashin'. All the fighting is done on the bikes at full speed around corners, flat out full throttle on straights, and in mid air!! The object is not to kill the opponent. All you want to do is pass 'em and move on. If you spend too much time trying to eliminate the other riders, you waste time which isn't cool 'cause you need to finish in the top four on each track to move on to the next level. Since there are five tracks in each level and five levels you've really got to hustle.
ProTip: Once you're in fourth place during a race you may want to ride more cautiously and just keep an eye on your mirrors. At each level the tracks get longer and the turns get tighter. The first level is pretty easy. It's a good place to hone your Road Rash skills.
By the time you get to the third level there are faster riders, more cars in your way, friendly officers to remind you of the penal code, and other annoyances that slow you down... it gets really tough. But wait, there's good news!
When the roads get tight you'll have to use the brake. Brake just before the turn and power through so you can be at full speed on the straight just after the turn.
Keep it Simple, Stupid!
You don't shift. You don't get any laser cannons. You don't fight any alien mutants on sewer cycles. You DO get a smooth scrolling motorcycle race game. It's got really hot bikes with great detailed graphics.
The screen shows speed, tach, odometer, stamina meters, two mirrors, and a timer. You can see the action behind you and watch as the riders you race against take each other out.
You Cannot Die! You will Live Forever!
The kind folks at EA understand that life's not easy Road Rashin' on California's back roads. Therefore, you can't die while you play this game. You can, however, run out of money! No matter where you finish at the end of each track you get some prize money. You can use the cash to buy better and faster bikes from the eight offered. Each bike is described on the screen with info about engine, weight, handling characteristics, and price. If you want a top of the line Diablo 1000 it's a deal at only $25,000 (no tax!).
Unfortunately, you're gonna' crash. If you don't crash too much you'll make it to the end of the track. Each crash makes your bike run a little worse and handle a little poorer. If you crash out too much and don't finish high enough you'll run out of money and the game is over. Boo hoo. The other way to lose money is to get busted by the cops. Out run 'em or it could cost you a heavy fine. The good news is that, unlike real life, it's kind of hard to run out of money.
Stay with the first bike you get in the game for as long as possible. You can do really well on this bike.
Save your cash for a really good bike 'cause when you need it you're really gonna'need it.
When you buy a new bike read its description carefully. A big horsepower heavy bike goes faster on the straights but is harder to control in turns. Stick with the lighter bikes at first. They handle better.
Get Your Helmet, Let's Go
Road Rash is a fun game you can play right away. After you get the hang of it you're still challenged by the higher levels. Password saves enable you to pick up where you leave off. All the grunts and groans of heavy bashing and crashing are there along with tire squeals, police sirens, and cow moo's. No lie. The bikes fly in mid air, jump rocks, rip around comers, and look great. If you love great race games this meets almost all of your criteria for an instantly addictive motorcycle 16-bit game with a somewhat sick twist thrown in.
It's great! So listen up squid! Get this game! Put on your leathers and I'll see you on the starting line. Get a good look at my face. You'll be seein' the back of my skid lid for the next 10 miles. Loser buys breakfast at Alices! (And hey, it's a game! Never ride like this! But you knew that.)
Crashing damages your bike and can cost you up to 10 seconds in the race. Don't crash!
Manufacturer: Electronic Arts
Machine: Sega CD
This bike-riding', skull-crushing game has always been great fun in the past, so what the hell happened to this version? The low-grade graphics and backgrounds combine with some unknown rock band's music (Hammerbox?) to take a great title to new lows.
Your on the race course with a brand new cycle. Win the race to earn more money. Use your winnings to buy faster and better cycles!
Ready to experience the thrill of a motorcycle road race combined with the excitement of a barroom brawl? It so, then you're ready for Road Rash! In this race, you had better not look back or take an eye off the competition, because they are just waiting to pull you off your bike. This game is not for anyone with slow reflexes! One false move and you can expect to plow into a parked cow. Only the best biker will make it to the winner's circle.
Road Rash debuts on the Sega CD with an uneven but exciting version of the top motorcycle thrashing game. This disc, which blends the phenomenal tunes and full-motion video of RR 3DO with simpler, bit-mapped courses, will thrill Genesis Rashers but disappoint 3DO gamers.
Crack that Chain
Like the 3DO version, this Rash pits you against five tracks in such California locations as Napa Valley, the Sierra Nevadas, and the Pacific Coast. With a club or chain in hand, you race and fight through Thrash mode, which lets you pick any track on any level. Or tackle Big Game where you assume an identity and save your green for better bikes as you battle though the levels.
Sadly, Rash on the Sega CD lacks the 3DO's breathtaking scenery and the Genesis's two- player simutaneous racing and endless options. But you'll have a blast clobbering the pack and dashing to the finish even without these niceties.
ProTip: Take blind turns and rises on the right side.
Ram Rash
The graphics peel out with striking full-motion-video cinematics that pump you up before a race, reward your victories, and mock your defeats with hilarious put-downs. Once you hit the streets, though, the graphics return to the less dazzling 16-bit realm. Realistic backgrounds provide a pretty backdrop to bland foregrounds lined with pedestrians and other obstacles.
Unfortunately, the slight pause between pressing a button and the onscreen response dampens the kind of high speed reactions that redline the intensity. The controls otherwise respond ably; as you sink money into better bikes, you'll feel what you're paying for.
Black Sun
With killer grunge tunes from hot bands like Sound- garden, the rockin' music perfectly accompanies the rough-n-tumble action. You can even change songs when you pause!
The nice sound-mixing feature enables you to fine-tune the blend of music, engine roars, and sound effects. Although the hard-drivin' engine noises energize the action, you'll turn down the other effects after your first race.
Despite its shortcomings, this disc's amusing cinematics, thrilling gameplay, and increasingly difficult levels will draw you in. The Rash has finally arrived on the Sega CD!
On the City course, keep an eye out for pedestrians. Mowing one down can wreck you -- especially at low speeds.
When approaching someone from behind with the club, hold Up and press Button C to clock them as you pass.
There are no laws in the Road Rash Jungle. Forget about going in circles on some wimpy track. In this insane, two-player motorbike racing simulation game cum beat-em-up with ultra-authentic multi-scrolling graphics, you ride your mean machine over even meaner streets and roads. It's a free-for-all, which fists and feet are flying, as you have complete, unlimited access to the public roads in five, different locations -- no coppers allowed! Dodge your way around enraged motorists, slow moving cows, and other bikes are other equally crazy and competitive riders to be exact! There's no mercy on the streets of Road Rash.
Road Rash is a series of games developed and published by Electronic Arts between 1991 and 1996. The game is a motorcycle arcade racing simulator, and the debut was made in 1991 on Sega Mega Drive/Genesis. The game and two following sequels followed later on for the PSP. The game was licensed in 2004 for Game Boy.
Road Rash features violent illegal street racing, with police following sometimes, and the player can choose from up to eight different bikes. All the tracks are from the United States and California on long two-lane roads. The multiplayer engine only allowed two players to play in turns. There are different levels through each player has to pass, starting with Sierra Nevada (CA 89), Pacific Coast (CA 1), Redwood Forest (no highway), Palm Desert (CA 74) and Grass Valley (CA 49). The tracks depict California States Routes or highway shields.
There are also two weapons to choose from: clubs and chains. Players can win races by being placed on first, second, third or fourth in each of the tracks, which is a bit weird, because all the racing games nowadays request players to get the first place to advance. After the player gets past all tracks, they become longer, the opponents faster and better, and the stake is much higher.
The game was played in third-person and, by placing in the first three on each track, the player earned money which could have been used for buying faster and better bikes. Unfortunately the game was over if the player didn't have enough money to repair the wrecked motorcycle or to pay for being arrested.
The game was made available for Game Gear, Sega Master System, Nintendo Game Boy and Commodore AMIGA later on, but Road Rash, the original game, was the only one to have been distributed onto other consoles and computer.
The original came was received very well by critics and players. It received very favorable reviews in Mean Machines magazine, and an overall score of 91% for the music, graphics and gameplay. The game released on Commodore AMIGA received an overall rating of 84%. Road Rash won several awards over the time, with the Electronic Gaming Monthly giving three awards in 1994. The Best Driving Game, Best Music in a CD-Based Game and the Best 3DO Game in 1994 were offered to this production by the publication.
Electronic Arts released a statement two years ago, saying they are working on the next generation Road Rash, but nothing more has been heard yet.