RPM Racing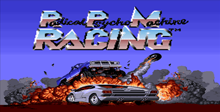 a game by Blizzard Entertainment
Platform:

SNES
See also: Racing Games, Car Games
FIRE, EXPLOSIONS, AND RACING?!?
The mean dirt slinging machines of the slam-and-mud test dragsters are hitting the screens on your Super NES! Choose from three wild and rip-pin' metal monsters! Each one of these totally devastating vehicles has the ability to tear up the track in its own special way, however, so be sure to pick carefully! One you're in the seat as a truly awesome four-wheeled warrior, it's out for blood in one of the wildest and most intense races ever!
Don't come to this competition expecting some simple walk around the oval, either. The terrain out there has a lot of nasty supprises ranging from sandpits to ice, with a few death-defying jumps thrown in for good measure. With enemy drivers out for blood and car customization, RPM roars!
Other games by
Blizzard Entertainment
RPM Racing Downloads

RPM Racing download
RPM Racing offers two player, split screen racing at it's finest. There are five tracks to choose from, each of which you can customize to your own racing preference. Ramps, curves, and nasty road obstacles give the racing an off-road feel. Each time you blast past the checkered flag as a winner you collect the big bucks. Put those bucks to work! Stop in at the automotive shop and you can upgrade your mean machine with top-of-the-line parts and engines. All's not in the size of your engine, however. The mote power you have under the hood, the more precise your driving skills must be. Get ready to max out those rpm's with RPM Racing.