Saint Sword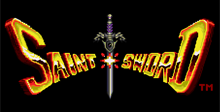 a game by Taito
Platform:

Genesis
Taito has a new side scrolling action/adventure game which features detailed multi leveled backgrounds, huge enemy bosses and a quest similar to that found on Rastan. Get the life capsules which appear from some of the monsters you defeat for more energy, and search for the stronger swords to help you as you progress through your quest.
Saint Sword Downloads

Saint Sword download
Grab your sword and begin your adventure in this new side-scrolling game. The monsters are fierce and the bosses are huge! Great action!.