Sensible Soccer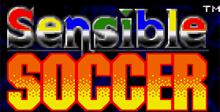 a game by Sensible Software, and Eurocom
Platforms:

Genesis

Sega Master SystemGameGear
See also: Soccer Games, Sensible Soccer Game
Manufacturer: Psygnosis LTD. of Europe
Machine: Mega CD
Theme: Sports
While I quite haven't figured out why they call it sensible yet, this soccer title was one of the more interesting ones at the show.
Not only is it on Mega CD, where sports games are kind of rare, but it also has many more options than similar titles.
From the very start, it contained that "soccer" feel with full-motion video. The on-screen players, which were seen from a bird's eye view, seemed a little bit too small. Still, the action moved very fast.
Like I wrote earlier, there are a great number of options - so many in fact that I can't even begin to summarize them here.
Soccer games on CD? Doesn't happen very often, so I guess this is one you'll probably want to see. Overall, not too shabby.
Other games by
Sensible Software
Sensible Soccer Downloads

Sensible Soccer download