Shanghai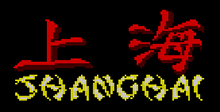 a game by Activision
Platform:

Sega Master System
See also: Shanghai Games
In this version of the ancient solitaire concentration game, you must match tiles of the same style. Remove all the tiles and you win. Tiles are arranged in the shape of dragons, bears, fish and other Chinese symbols. Challenge 7 different puzzles in this game of intricate moves and timeless strategies.
Shanghai Downloads

Shanghai download
The game that took over 2500 years to develop - and at least that long to master! A seemingly endless number of variations of the playing board, each with five increasingly difficult stages to unravel. Play the original version, using Mah Jongg tiles, or the updated version using the alphabet. We can teach you how to play the game, strategies, even how to read the Chinese characters - the only thing we can't teach you is how to quit!
A tremendously addicting game that challenges players to the ancient tile game Mah-Jong.