Skull and Crossbones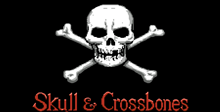 a game by Tengen
Platform:

NES
Skull and Crossbones is an action-packed quest adventure for one or two players. It's about two pirates, Red Dog and One Eye, who sail in search of treasure while guarding a beautiful princess. Then the Evil Wizard (how's that for an original name?) bewitches them with a spell and kidnaps the princess (not to mention an original concept!). The two pirates (or one pirate, in a single-player game) set out to find her and avenge their tarnished honor.
To complete this adventure, you must clear six stages and survive a final showdown on Wizard's Isle. The six stages are arranged on a map screen, with the easiest one to the left and the most difficult on the right. You can play them in any order you want.
In each stage, you must not only defeat lots of enemies - both human and supernatural - but also collect booty. Later, if you clear the stage, you can trade the booty for valuable weapons.
One player can tackle this game alone, but Tengen recommends the two-player mode, and we strongly agree. The screens in Skull and Crossbones are extremely busy. They're filled with enemies trying to kill you, objects you must grab, and places where you must jump to avoid losing a life. Our game testers found it difficult - and on some screens, virtually impossible - for a single player to maneuver, fight, and grab all of the necessary booty. In the two-player mode, however, one person can do most of the shooting while the other concentrates on picking up the objects.
In the single-player mode, you get five continues. In the two-player mode, the five continues are shared by both players. Health points and extra lives are sometimes available as bonuses.
The graphics are bright and cartoony, and the whole game has a fresh, appealing style. Basically, though, Skull and Crossbones is a fast and furious action game that values quick reflexes and sharp coordination over good strategy.
Many people will find Skull and Crossbones frustratingly difficult when played alone. With two players, however, it turns into a better, more balanced game and becomes a lot more fun to play.
Skull and Crossbones Downloads

Skull and Crossbones download
Yo, NES shipmates -- or should I say "Yo, ho, ho!" -- now you can become a pirate and set sail for а swashbuckling adventure in Tengen's Skull & Crossbones. As either One Eye or Red Dog, you pursue the Evil Wizard across oceans and over land to save yet another kidnapped princess.
Far Flung Adventure
In this action/arcade game, you jump around and slash your way through six 360-degree scrolling levels -- three onboard ships at sea and three on land (at the Castle, Ninja Camp, and Wizard Isle). You get a built-in level select feature that's nice, but in this instance it takes away from the game's overall challenge.
Skull & Crossbones doesn't present an overwhelming challenge, but the nonstop fighting keeps you on your toes. If you need help, you can recruit a friend. Two player mode is fun, and it features a unique, split screen view.
The graphics aren't very flashy, although you'll encounter a wide assortment of enemies and items. Before you even take a crack at the Evil Wizard, you run up against 23 different enemies including buccaneers, zombies, ninjas, skeletons, harpies, and even moles. You have to defeat at least 15 enemies to get to a boss. At the end of the seafaring levels, you cross swords with the ships' Captains. On land, you fight the Executioner, the Ninja Master, and Medussa.
Along the way, you can grab a treasure chest full of stuff -- 23 items in all-including weapons such as swords, guns, and magic stars; health food in the form of grapes and fish, and booty, which you can cash in for more weapons. But look before you grab, Death hides nearby.
ProTips:
Defeat the Ninja Master in Level 4 by kneeling down in the far upper right corner of the screen and attacking him non-stop. He'll keep jumping into you until he's a goner!

Grab the red "S" on the three land levels. This is the Magic Star, a smart bomb which destroys all enemies on screen.

Conserve your weapons since they are few and far between. Also make sure your friend doesn't take all of the hidden stuff because once it's gone, it's gone!
Swab Your NES Deck
Skull & Crossbones is basic NES entertainment. It's fun and easy to play, but it won't keep you up nights. The game's main plus is the non-stop action which at least gives your reflexes a workout. If you haven't filled your quota of saved princesses, you might want to shanghai a friend and get after the Evil Wizard in Skull & Crossbones.