Solitaire Funpak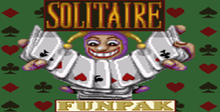 Solitaire players, get ready for a great new game called Solitaire Funpack. This game has 12 different variations, some of which I had never heard of before. The game also features a scoring system, so you can see how good you are. You can play each of the games by itself, or you can play in the Tournament Mode playing one game after another. This mode is more challenging and is a great way to pass the time, like a month or two! This is one of the games for the Game Boy that you. will want to have with you at all times!
THE GOOD
This is the best thing to happen to solitaire players since cards!
THE BAD
There are so many variations that it will take awhile to learn them all!
THE UGLY
The way you look after 20 games or so!
Other games by
Beam Software