Sonic and Knuckles & Sonic 2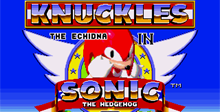 a game by Sega
Platform:

Genesis
See also: Sonic Games
Sonic and Knuckles & Sonic 2 Downloads

Sonic and Knuckles & Sonic 2 download
The last time Sonic and Robotnik went head to head, Sonic blasted Robotnik's Death Egg to smithereens. The explosion heaved Sonic deep into Floating Island's Mushroom Hills! Sonic knows that many emeralds, including the master emerald, are hidden somewhere on Floating Island. He bets this Knuckles character knows where they are! Sonic can't let Robotnik get his hands on the Master Emerald. He'd have Death Egg fuel forever-and Floating Island would be destroyed! Now Sonic's got two problems.
How to protect the master emerald? And how to keep Knuckles off his back? He'll have to deal with that wild echidna right away! Knuckles has problems too. As Guardian of Floating Island and all the Emeralds, Knuckles has a mission-to wage war on all invaders. Whoever threw that bomb is in deep trouble. Knuckles is ready with tricks, traps, and bare-fisted attacks to keep Floating Island safe. Sonic's not taking any chances. Neither is Knuckles! But while they are going the rounds with each other, who's stopping Dr. Robotnik? Could this be the end of Floating Island?"
This game is really cool. You get to play as Knuckles. If you played the Sonic the Hedgehog 2 game, this is what this download is except instead of Sonic and Tails, it's just knuckles. The bad thing about this game though is that the levels aren't complete and there are a lot of bugs (Messed up things). One major bug is that the enemies don't have images, just the number program they are. Some enemies show though and the game is fun, especially the boss fights. Try it out. This Game is recommended by me, JGCD.