Spider-Man - Web of Fire 32X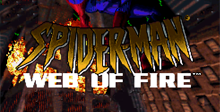 Platform:

Genesis
See also: Spider-Man Games
Spidey comes to the beleaguered 32X, this time with ol' Webhead clearing a laser web from the city skies. Web of Fire is decent side-scrollin', web-slingin', thug-punchin' fun, featuring nimble sprites, lots of crawly moves, and fine graphical details. Spider-Man: Web of Fire won't disappoint Marvel fans, though it doesn't raise Spidey to the pantheon of great video game heroes.
Spider-Man - Web of Fire 32X Downloads

Spider-Man - Web of Fire 32X download
This game was released 0n 1996. I played the game. It is highly addictive. Web-swing through one place to another and fight your enemies. This is a fun game.