Sporting News Baseball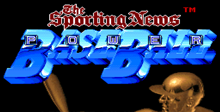 a game by Nintendo
Platform:

SNES
See also: Baseball Games
BE A SPORT, SWING FOR THE BIG FENCE
This game may be the closest you can come to watching your favorite baseball players step up to the plate this year. Hudson Soft is swinging for the fence, and this game has all of the features that a big-time baseball game needs.
Choose from any one of your favorite American or National League teams. You can even take the field as or against real Major League players from all 26 big-league teams. Barry Bonds, Bobby Bonilla, David Justice and Ken Griffey, Jr. are all in this game. You can test your skills in all elements of America's favorite pastime. Test your batting, field ing, pitch ing and running skills to see how they compare to baseball's big-name players.
The game has a battery back-up to save all of your statistics during a single game or a full season. Gamers can choose from a 26-, 52-, 78- or 162-game season. See if you can capture the Sporting News pennant!
It's a fast-paced race for the pennant that you'll want to check out. If you're a fan of fine sports games, this one should be at the top of your list.
As far as Super NES baseball games go, this one will be in the running for this year's World Series of gaming.
One very cool feature of this game is the stats. You can see who has the best earned run average (ERA) or see who has the most stolen bases or the most home runs. The computer keeps track and adds to the stats, so you can see how you measure up against the other players in the league.
The Cowboy and I have been putting our controllers through a spring training of sorts on our own, and we have been blasting the ball around the park.
It seems as though our pitchers aren't getting the job done, but it's only spring training--there's a lot of baseball season left.
The game has lots of good points--give it a try for yourself. I guarantee you won't be disappointed.
If you love baseball, this might just be your field of dreams until the big boys start playing for real again. But until that glorious day comes, you'll find plenty of baseball action in this hardhitting game!
MANUFACTURER - HUDSON SOFT

NUMBER OF PLAYERS - 1-4
Sporting News Baseball Downloads

Sporting News Baseball download
The Sporting News may be the sports authority, but it's a raw rookie in the video game world. The Sporting News Baseball shows that novices, no matter how authoritative, still need some seasoning.
And Now, the News
SNB is a standard baseball game that lacks distinctive features. Well, it does have one unique feature: Among your three stadium choices is the cornfield from the movie Field of Dreams. Beyond that, you're treated to the same behind-the-catcher pitching view and the same overhead fielding view that you've seen for years.
ProTips:
With its shallow corners, the Dream Field can be a nightmare for pitchers.
Against dominating power hitters who can pull any pitch out of the park, such as Ken Griffey, Jr., swing your defense around to the left and pitch to the outside.
No dramatic closeups of the plate as in World Series, no screen rotation as in ESPN, no view from the mound as in lots of other games, no team names, no head shots, and no real stadiums. This one is the simple pitch-hit-run baseball you played on yesterday's games.
Admittedly, as far as that pitch-hit-run action goes, it's pretty good. Your players respond well, and you have good control over your pitches. There aren't many strategic options, however; SNB keeps things simple, resulting in easy, high-scoring games.
Mix up your pitches. Nothing like a 68-mph changeup to throw hitters off balance.
Did we say easy? When the Dodgers' speedster Delino De-Shields cranks eight out of 10 pitches into the seats in the Home Run Derby, you know something's goofy.
In line with that simplicity, the stats aren't much. Baseball fans probably demand more stats than the fans of any other sport, and that's another reason that this game fades in the standings. Not only are the stats average (just ERA and wins for pitchers), they're not even up to date. Ryne Sandberg is still on the Cubbies? Ah, memories.
Sporting Graphics
The pitching and hitting graphics steal the visual show. That's not saying much, considering your other players are midgets, and you have only three fields to look at. But the pitchers and hitters are big, fast, and smooth. Bean a batter, and you'll see him cringe in pain.
Pitchers aren't necessarily listed in order of effectiveness. Scroll down to find a starter with a good wins/ERA combo.
Don't ignore opposing base runners -- throw over to first to keep 'em honest.
The sounds, however, are nothing special. You hear the usual crack of the bat and cheers from the crowd, along with flat calls from the ump and what sounds like improvised organ music.
If average stats and sounds don't bother you, you can have a pretty good time running up the score with SNB. Sophisticated players won't think it's a field of dreams, but novices might.
Hudson Soft for Super NES
Aaaarrrgggh! I can't stand it anymore! Please, no more baseball!!! This is an OK baseball sim. It plays well. It's a solid, entertaining title. Give it a try. Is that enough? Now will you leave me alone?
Manufacturer: Hudson Soft
Machine: Super NES
Aaaarrrgggh! I can't stand it anymore! Please, no more baseball!!! This is an OK baseball sim. It plays well. It's a solid, entertaining title. Give it a try. Is that enough? Now will you leave me alone?
Publisher: Hudson Soft
Developer: Hudson Soft
Rounding out this month's mini-tribute to the sport of baseball is The Sporting News Power Baseball for Super NES. Like the other two baseball cartridges featured in this section, this game focuses on arcade action more than simulation - and actually goes further to that end than the other two we've looked at. Hudson Soft's Power Baseball contains elements of the original R.B.I. Baseball arcade game and Nintendo's Ken Griffey Presents Major League Baseball: fast action that will test your reflexes and simple controls that take no time to learn.
Game modes for Power Baseball include exhibition, home run derby, and All-Star match-ups. You can also embark on a 26-, 52-, 78-, or 162-game pennant race. But stats and team management are not a big concern in this game. The intent is to provide a fast, action-packed baseball game that doesn't get bogged down in strategy and numbers. Hudson Soft pulls off the arcade approach rather well.
The simple graphics give the game an arcade-style feel, and the batter/pitcher showdown screen is the game's highlight. From the combination of the smooth swinging motion and the sound effects of the crack of the bat you can almost tell whether or not the ball's leaving the yard. Looking from the overhead fielding perspective, the player sprites are rather small, but not so small that they hamper your defensive abilities. As in the R.B.I. series, the pitching, hitting, and fielding controls couldn't be simpler, and up to four people can join in the action with a multi-player adaptor.
There are better arcade-style baseball cartridges available for the Super NES, but The Sporting News Power Baseball by no means disappoints. While it lacks the charisma and extras of more notable games, it remains a solid title that's sure to entertain.