SS Lucifer - Man Overboard!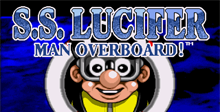 a game by Odysseus
Platforms:

GenesisGameGear
See also: SS Lucifer - Man Overboard! Games
SS Lucifer - Man Overboard! is a computer game developed by Zeppelin Games Limited. It's a action/puzzle game very similar to Lemmings. Versions for SNES and Amiga are known as Sink or Swim.
In this game you play Kevin Codner, an aquatic hero. You hear that the SS Lucifer Submarine has suffered some sort of mishap (the exact nature of the incident is not made clear in the game. Somehow the captain is shown pulling the plug from his bath, and a fountain of water shoots up and starts flooding the ship.). Kevin gets into a yellow submarine for saving passengers.
Modern analog of this game is Exit for PSP.
SS Lucifer - Man Overboard! Downloads

SS Lucifer - Man Overboard! download