Star Soldier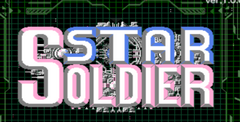 a game by Taxan
Platforms:

NESGBA
See also: Star Soldier Games
The same game used for the Japanese Nintendo game championships. A tough, riveting, fast-moving classic. Master the complex tactics of interstellar warfare as you're warped through 16 increasingly difficult levels. Before you meet the final Starbrain, you'll have to outwit, and outfight a slew of evil warriors, each with their own attack patterns. Only a master will make it to the final showdown, but the nerve-tingling, super galactic action will give you light years of great playing.
Star Soldier is a space game which I've been playing for over a month, and I have yet to beat level 15 (there are 16 in all). This game is a shooter extraordinaire! Personally, I can't get enough of this puppy; it's fast, it's mean, it's the game used for the Japanese championships! This game features multiple weaponry, speed ups, smart bombs, and so many ways to get bonuses that I still haven't found half of 'em! If you get in trouble you can even sneak underneath the islands. There are even rumors of hidden warps! Star Soldier has it all!