Street Fighter 2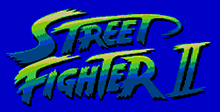 a game by Capcom
Platform:

Sega Master System
See also: Street Fighter Games
With the growing popularity of fighting games and the undisputed success of the king of the hill, Street Fighter, the anticipation and curiosity surrounding this game is immense. Well, you won't be disappointed! The company that continues to put out superior products (both arcade and home video games) aim to please and they sure do!
Little info is known about this awesome new coin-op. But from the pictures alone, you can get a feel for the quality that Capcom is famous for (remember the transition from SF to SF2). However, it doesn't get by only on its looks - you can be sure the sounds and game play push technology to the limits.
There are four new and amazingly unique fighters and places to fight as well as incredible new moves. We would expect nothing less from the company that retains a level of social conscience by delving into all races, cultures, and religions, to bring us the most unique and authentic fighting characters from around the world.
Street Fighter 2 Downloads

Street Fighter 2 download