Super 3D Noah's Ark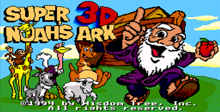 a game by Wisdom Tree
Platform:

SNES
See also: 3D Games
Other games by
Wisdom Tree
Super 3D Noah's Ark Downloads

Super 3D Noah's Ark download
Noah's back and this time it's biblical!. The best Doom joke Ive yet seen shooting goats with rotten fermenting fruit to get them drunk and fall asleep to reclaim you ark from rampant rams!. A must download if Doom seems to serious for your liking...